Forum Topic
We all know that recent events have many of us flustered, so let's have some fun shall we?
Let's have a nice discussion about the upcoming movie and talk about the kinds of things that we love most about the previous Godzillas who came before and how we're hoping to see some of our favorite behaviors, combat tactics, etc, make an appearance in this new film shall we?
I'll start!
One of my favorite Godzilla movies of the Showa era was actually something of a surprise to me upon some reflection, and I found that my favorite movie of that era was actually Mothra vs. Godzilla. It's one of the best Godzilla movies, period, but it's definitely my favorite of the Showa era. Godzilla's natural lumbering movement, his feral fighting style, all of what was Godzilla in that film was the most natural I've seen throughout the entire franchise and the most true to form if we're judging it by the original Gojira.
I'm really hoping that feral and natural animalism returns.
Of the Heisei series movies, my favorite was definitely Godzilla vs. Destoroyah. The main reason was also a suprise upon reflection, but I think what really made it for me was Godzilla's impending fate and the fact that it impacted the rest of the human race as well. The entire human race felt the same sense of doom that we all felt for Godzilla, and that connection is what made the movie for me. It wasn't the action, the enemy, or Godzilla's hot (no pun intended) new look. It was that human connection to Godzilla and his ultimate fate that made the movie.
That is also something I hope returns.
And fianlly the Millennium series, and I think you all saw this one coming: GMK.
It's plain to see that Godzilla's evil nature and his naturally destructive attitude are the reason for this decision. Those two features alone are what I hope will also return from the Millennium series incarnations. It's not going to be easy to bring a balance to those two features, but I'm hoping that Gareth was able to pull it off.
So what about you guys? I know this general topic idea has been covered, but this time I'm hoping that everyone can keep it civil and share their thoughts on which exact features of each series come back. It's not about what specific physical features there are, but what elements of the series you thought made a specific movie in that era special and that you hope to see come back for this new movie.
Have fun!
PICK YOUR TITAN
3 Responses to Let's have a smile!
When I was older, I was able to see the 1st Gojira film. However growing up I saw the 62 Godzilla vs King Kong film. At the time it was a reflection of the American Kong only bigger and had a new 'shocking' trick. The ones I remember the most of pre-millenium era Japanese films were: Godzilla vs Mecha-King Ghidorah, Godzilla vs Space Godzilla, Godzilla vs Destoroyah, and the American Zilla film.
I think I enjoyed Destoroyah more, as it was a Kaiju form of the weapon that killed the first Gojira. While I know the American Zilla isn't Godzilla, it didn't stop me from enoying the film as a general monster movie (plus the cartoon series was cool).
Never saw the Millenium series, well aside from Final Wars. I heard that Toho and a Japanese Zilla, so I was eager to see the fight (knowing full well that Gojira would win, but as long as the fight as accurate to Zilla's behavior I would enjoy it). I was greatly disappointed in how short the fight was and how opposite the behavior was. Granted, had the Final Wars Zilla been the "Zilla Jr" cartoon concept I could understand it's behavior for Zilla Jr was pretty Gojira-like itself. Final Wars Zilla was so dumb, considering how weak physically it is vs Godzilla, that even the American Zilla could KO it. The American Zilla prefered to wait until it could have the advantage, prefering to NOT attack openly and risk injury. Now its "sneak attack" attempts vs Gojira could spell its doom; depending on the move it did.
Of the Gojira incarnations of the past, that I've seen, I think the 1st Gojira is the better design. It had a tough hide rather than fast regeneration. You can only do so much vs tough hide, for both kaijus and the military alike. The upcoming American Godzilla would combine the physical aspects of the 1954 Gojira, increase its aggressiveness and power, to result in (possibly) the greatest form of Godzilla/Gojira to date.
I believe in Jesus Christ, who's my Lord and Savior.
John 3:16, Job 41:1-34, Leviticus 18:22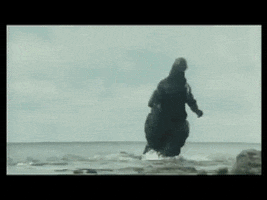 What I hope for is the new movie to have at least ONE scene where he does the dance from Invasion of Astro Monster. I'll also be kind of dissapointed if it's short. I want it to be AT LEAST as long as Final Wars. 1 hour and 30 minutes just won't be enough Godzilla for me. Also his atomic breath... what I think would be cool is if his spines flashed just once, then a different area flashed, and it sounded like thunder. Then the thunder flashes would gradually get louder and happen closer together until Godzilla opens his mouth and a thunder roar from Hell emerges and his atomic breath flies furiously out of his mouth, causing an earth-shattering BOOM!!!!!!!!!! noise as it destroys everything in its path.
I have no idea what expect from this new Godzilla but the continuity so far with the classic is really exciting. 
I too loved Godzilla movies as a kid and would be hard put to pick a favorite. Plus, you guys REALLY know your Toho and I don't want to embarrass myself. One thing I would love to see is some homage to the cinematography and even the crushed aspect ratio that stretched everything vertically for TV. Just a little retro nod like that would rock.
Years ago I was with my then 5 year old daughter ( another Godzilla fan) at a great place in Chicago called The Monster Store. They had a big TV and were playing a Godzilla movie and two very serious guys were watching. Godzilla was wounded and had some red paint on him. One guy says "this was the first movie to show Godzilla wounded". And the other nods, looks down at my daughter and says paternally:" you probably shouldn't watch this, honey." My heart was warmed. What he didn't know was that her then favorite movie was Night of the Living Dead.
Add A Reply
Sign in to add a reply to this topic!