Member
0
Posted Mar-18-2014 9:42 AM
 What do you think? Is this the Godzilla Skeleton from 1954 or something else?
*Image embedded by Svanya
12 Responses to Is this Godzilla's Skeleton from 1954 or am I just seeing things?
Given the fact that there are stalagmites growing up around the ribcage, I'd have to say those bones are a little older than 1954.
No.
I'm sure it's a skeleton of the Big G's ancestor from the dinosaur age.
"I fear all we have done is to awaken a sleeping giant and fill him with a terrible resolve."
in good time all will be revealed to us i myself am still speculating that those are the bones of another godzilla but however seeing that there is no physical proof of this yet we all will have to wait and see  :)
http://hugeben.deviantart.com/  check out my gallery of Godzilla artwork! Follow me on [email protected]
This thing has a beak. I think it may be Rodan.
@Ant
I hope your joking.
"I fear all we have done is to awaken a sleeping giant and fill him with a terrible resolve."
No I disagree this is a Godzilla skeleton, cuz the fact that lets study the skeleton right now: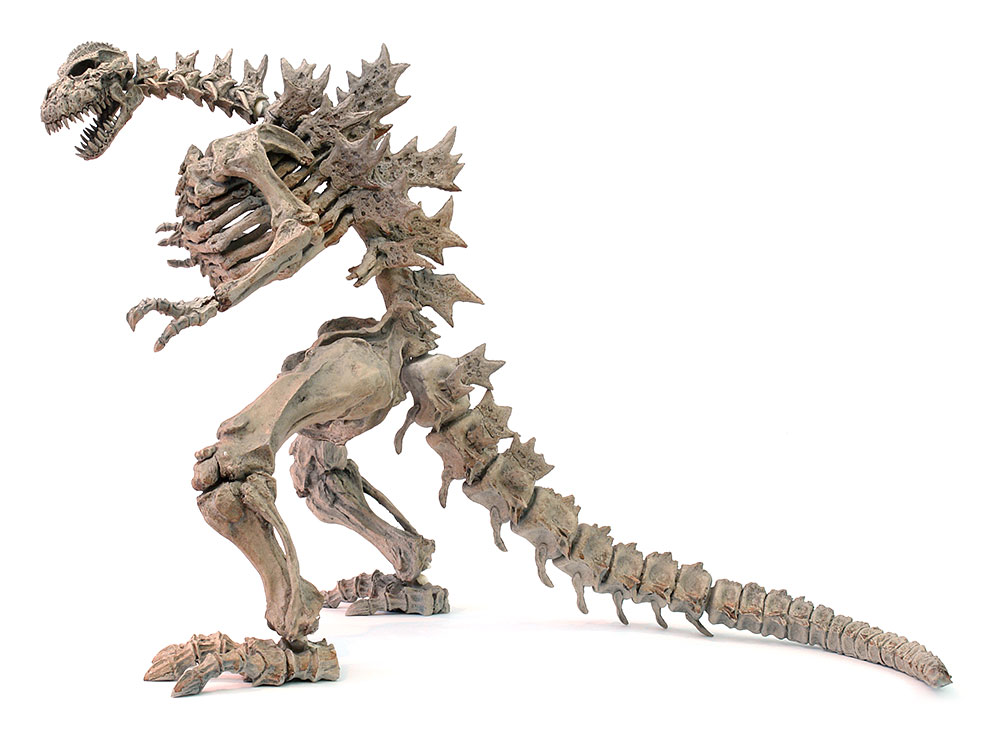 Now looking at these, I dont see any resemblance of these two photos and the trailer skeleton at all right now, the skeleton in the trailer I believe might be a muto. 
Cuz idk i just cant believe the trailer photo to be Godzilla's tail cuz have u seen what dinosaurs' tails look like? This: 
The bones in the trailer are ribs, and we all definitely know that Godzilla's chest is not that small, and that maybe a muto can be of this shape cuz we still have no idea what the other mutos look like yet, so wanna know my assumption? Right heree:
You're seeing things. But hey, it's nice to think about.
Still, the chances they'll use more than one Godzilla in this film are as good as zero so I doubt we'll even see a reference to any other Godzillas. Also, when they said that in 1954 during the atomic tests they were "trying" to kill it. To me, that sounds like a big indication that the 1954 Godzilla is the same one that is stomping around in 2014 in this movie.
POSSIBLE SPOILERSPOSSIBLE SPOILERSPOSSIBLE SPOILERSPOSSIBLE SPOILERS
POSSIBLE SPOILERs
IGN said that that was his skeleton
Extremely compelling, GOJI.
i'm thinking it's the centipede creature
the skeleton is serpentine in appearence
You guys I think ooook hear me out I can be wrong or I can be right i think the bones belong to shinomura from GODZILLA awakening the half of it if u read the novel GODZILLA still existed in 1944 GODZILLA and shinomura were frighting and he killed it so in the movie you can hear Serizawa jr said we were trying to kill it which in Godzilla awakening Godzilla was still alive so my anwser to you guys is the godzilla from awakening is the same Godzilla in the 2014 or is that the bones from the first godzilla his ancestor 
Sign in to add a reply to this topic!