GODZILLA PS3 Game Gameplay Trailer! (First Gameplay!)
PINNED
This needs no further introduction. Here ya go:
And as a bonus, here's the official game website:
All aboard the hype train!
26 Responses to GODZILLA PS3 Game Gameplay Trailer! (First Gameplay!)
Wow i was just about to post this this game is gonna be awesome
Nice tease at the end there.
--
Visit my Twitter & Scified Tokusatsu
@TREVEASY
Ha, sorry about that. Godzilla games excite me. ;)
@GMAN
I know right? As if everything before wasn't enough.
I love the tease at the end
Did y guys click on the link it takes  to a different wbsite
Did you guys click on the link it takes you to a diferent website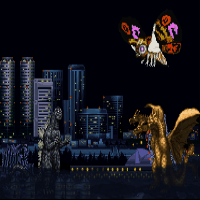 wow i cant wait to its realese, and treveasy it does take me to the sie
Evacuate?, Godzilla is just a Legend!-Woman in GMK
Stupid Playstation getting an awesome Godzilla game while Xbox gets nothing.
Don't trust a cowboy in your bathtub because a cowboy in your bathtub is up to no good.
@INSTINCTIVEGIGAN, Well it looks like there is only destruction and no monster brawling..HOWEVER my love for Godzilla is absolutely forcing me to get this anyway.
G14 looked bigger in that tease than Toho Godzilla, think they'll be modeled to scale?
Oh! Imagine if you could play as female Muto? I hope so
"Daddy's home- cake every night,"
This game looks promissing
???     One revives
???     God of Destruction
__??, ???, ????(I had trouble with this word), natural disaster, or man-made disaster
??, PlayStation 3 ????  This winter, and landed one on the Playstation 3 (not sure on this one, but you get the idea)
So there ya go
0:51
LegendaryGoji
Is that you??? 
YEEEEAAAAASHHHHHH
"I must become someone else. I must become...something else!"
I could only imagine how much better this game could be if it was on the PS4. I hope it eventually does like the The Last of Us did. I'm getting a PS4 for Assassin's Creed Unity and Evolve already so a Godzilla game would be a nice addition. Also, where is Kiryu?
(by the way, my above post is the translaton, I can't go back and edit it.)
Also, in the description for the video on YouTube, it says it's for the 60th anniversary of Godzilla, and you "Complete a mission traveling to destroy all the weapons of the human race, the factories, and the city Godzilla landed in, on the PS3 system. I tried to reproduce in the special effects, expressions, the feelings, and the action of Godzilla. And in addition to the normal point of view, a unique approach has been taken to equip it with a "special effects camera", for better viewing the ultra-destructive actions of Godzilla, imitating the feeling of the theater! The follow-up on the official site!"
Kiryu is in the screenshots.
Go here:
FULL MAGAZINE PAGE OF THE GODZILLA PS3 GAME (MORE SCREENSHOTS AND KIRYU & GODZILLA 2014 CONFIRMED!)
Open the image in a new tab and zoom in on one of the lower right images.
Everything looks so great and I want to get so excited but it's only exclusive to PS3 right now :/ I only got an Xbox 360!
Awesome! But can anyone translate it...?
THIS HAS TO BE RELEASED IN XBOX 360, IT HAS TO!!!!!!!!!!!
"There is nothing noble in being superior to your fellow man; true nobility is being superior to your former self." - Ernest Hemingway.
Wait on the other page it said Classic and Legendary Goji will have a showdown?? Doesnt that mean this game is quite like a fighting game then?
Is it just me or do the descriptions and gameplay match up with godzilla generations for the sega dreamcast.
Guys, there are other monsters in the game! You need to look closer in the trailer
http://i.imgur.com/bdIJyer.png
You can see Kiryu next to Godzilla in the dust. THERE IS MONSTER BRAWLING IN THIS GAME!
DANGGGG!!!!! This is going to be amazing.
http://hugeben.deviantart.com/  check out my gallery of Godzilla artwork! Follow me on [email protected]
It seems like I posted that too late, and the site does not let me edit my stupid mistakes! Ah well...at least there is Kiryu.
I can't wait to get my hooks on this game! The only thing I wonder is, is it a sandbox game? Are there other monsters, and will the military be weak? I hope the military is weak, because in that mobile game, you can easily get killed by a jeep... Stupid humans!
Is it a monster? No... a god
Sign in to add a reply to this topic!