Forum Topic
A simple question that can result in a simple or long answer. My most despised suit is the ShodaiGabara, because Gabara is just a dumb monster to begin with. Feel free to explain what your least favorite Showa suit is, or just name it. I'm not gonna pressure you to write a paragraph about how much you hate the big eyes on MusukoGoji, but just be sure to respect everyone's opinions, even though I don't think anyone in the right mind will get pissed off about what someone thinks of a goofy suit. Go at it, bros and... sises, I guess?
2 Responses to What is your Least Favorite Showa Suit?
Shodiaminira, because Minilla looks and sounds aweful. When he was first born I liked the suit as anyone wh's seen  baby when they're first born knows it's not a great site, I though the looks were intentionly ugly to watch it grow out of it. Unfortunately it kept the same look just got bigger.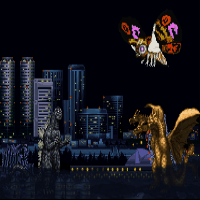 I whas really disapointed by the gabra and the Jetjaguar suits
Evacuate?, Godzilla is just a Legend!-Woman in GMK
Add A Reply
Sign in to add a reply to this topic!