Forum Topic
Huge-Ben #TeamGhidorah
PINNED
Hello everyone, i would like to discuss the whole random house books editions of everyone's favorite monster, Godzilla.
Let's start off with the books that were published.
1.
2.
 3.
4.
 5.
6.
7.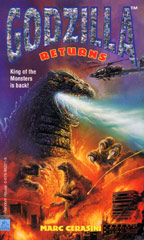 8.
9.
10.
11.
12.
Ok, now these books were some great reading. I can say that myself as i own each of these books. Really great children's novels that can even be enjoyed today as an adult.
Let's hear what you all have to say. Do you all own these? If so, have you read them?
http://hugeben.deviantart.com/  check out my gallery of Godzilla artwork! Follow me on [email protected]
15 Responses to Official godzilla random house discussion thread
Add A Reply
Sign in to add a reply to this topic!