The Official NECA Godzilla Information, Updates, and Discussion Thread
Pinned Topic
30,824 Views
96 Replies
Add A Reply
Baragon
Member
210 XP
Jan-11-2015 1:14 PM
Hey there, kaiju collectors!
In a similar vein to my S.H.MonsterArts info and updates thread, I've decided to create a similar thread for the continuing series of Godzilla figures from NECA. The line is continuing to grow, develop, and improve, and with the figures' great sculpts and articulation, it's definitely a great alternative to the more expensive MonsterArts figures.
As with my other toy thread, I'll be updating this thread with pertinent information on the available figures (images, price, availability, etc.) and any updates on the line (availability, new figure reveals) when they are released. I hope to make this the go-to thread for information on NECA's Godzilla line, and a place where all you guys who have the figures can discuss them and share the love! :)
Enjoy the info, keep your wallets close, and stay tuned for updates!
Godzilla 2014 Figure Line
Godzilla 2014 12" HTT
Based On: Legendary Godzilla (Godzilla (2014))
Release Date: May, 2014
MSRP: $18.99
Availability: Out of Print
Godzilla 2014 24" HTT
Based On: Legendary Godzilla (Godzilla (2014))
Release Date: July, 2014
Bonus: Roar Sound Effects
MSRP: $58.99
Availability: Readily Available
Classic Godzilla Figure Line
Godzilla 1994
Based On: Mogegoji Suit (Godzilla vs Spacegodzilla (1994))
Release Date: August, 2014
MSRP: $18.99
Availability: Readily Available
Godzilla 1985
Based On: Godzilla 1984 (The Return of Godzilla (1984))
Release Date: November, 2014
MSRP: $18.99
Availability: Readily Available
Godzilla 1995
Based On: Burning Godzilla (Godzilla vs Destoroyah (1995))
Release Date: March (2015)
MSRP: $18.99
Availability: Readily Available
Godzilla 1954
Based On: Shodaigoji (Godzilla (1954))
Release Date: August, 2015
MSRP: $19.99
Availability: Readily Available
NES Godzilla
Based On: NES In-Game Godzilla 8-Bit Spite (Godzilla: Monster of Monsters (1988))
Release Date: June (2015)
MSRP: $24.99
Availability: Readily Available
Godzilla 2001
Based On: "GMK" Godzilla 2001 (Godzilla, Mothra, and King Ghidorah: Giant Monsters All-Out Attack (2001))
Release Date: July, 2016
MSRP: $18.99
Availability: Awaiting Completion of Sculpt
TWO+ UNNANNOUNCED FIGURES
(NECA has confirmed via Twitter that they plan to release a total of three Godzilla figures this year, or more if Toho permits them. One, Godzilla 2001, was just revealed at ToyFair 2016.  Likely candidates for the other two or more figures, based on fan feedback to NECA, their own tweets, and their "Anniversary" pattern, are considered by many to be Godzilla 1964, Godzilla 1974, or another Millennium Godzilla, possibly Godzilla 2002/2003 (an easy paint varient), and Godzilla 2004)
Wizkids Figures
Series 1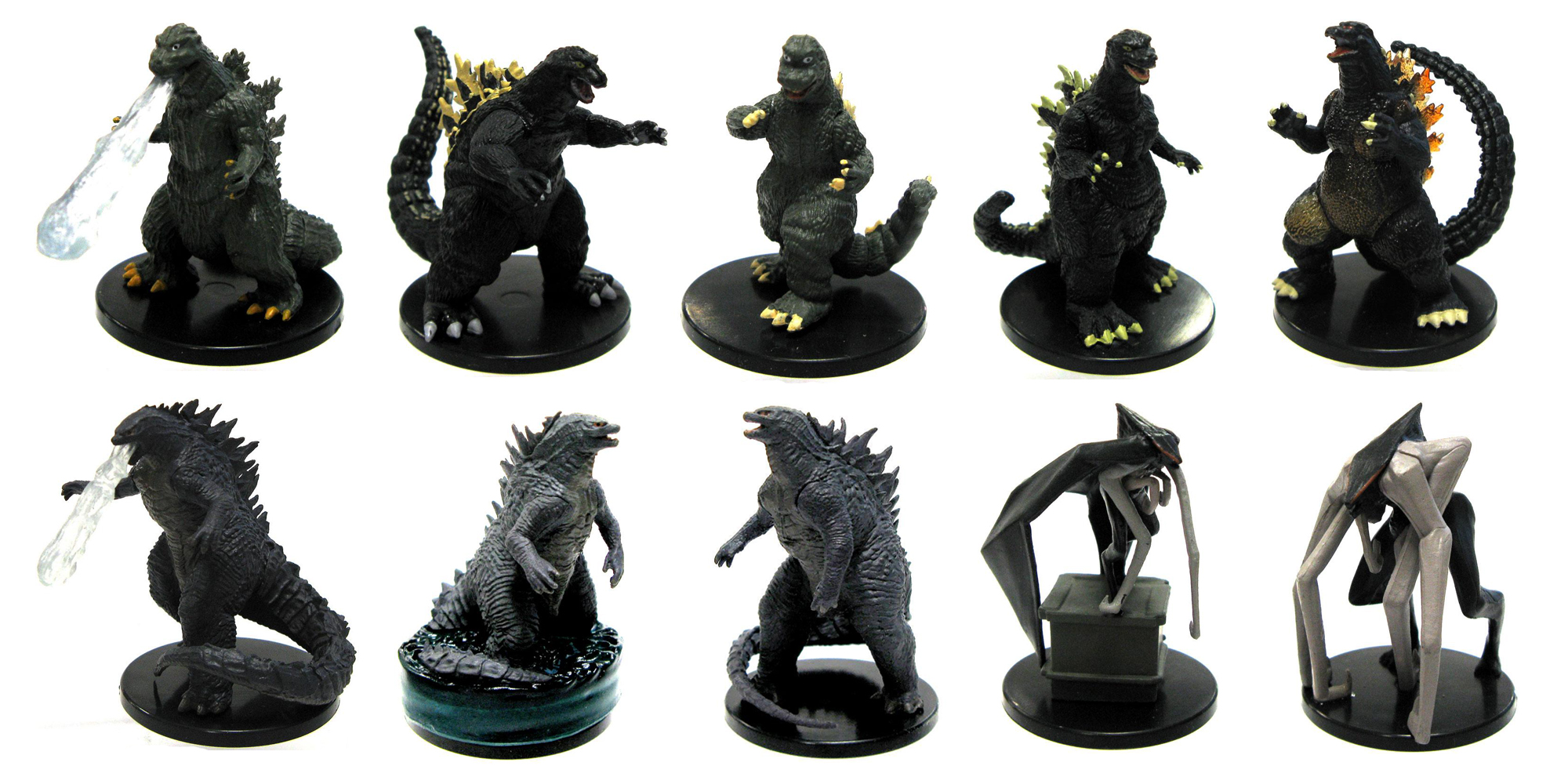 2014 Figures Include:
Godzilla 2014 (Standing)
Godzilla 2014 (Standing in Water)
Godzilla 2014 (Atomic Breath)
Male MUTO
Female MUTO
Classic Figures Include:
Godzilla 1954
Godzilla 1962
Godzilla 1967
Godzilla 1994
Godzilla 1995 (Burning Godzilla)
Wizkids Box
Godzilla 2014 and Classic Godzilla Blind Foil Packs
Miscellaneous
Scalers Godzilla 2014
Bodyknocker Godzilla 1954
UPDATES:
1/11/15: A few updates here to get us started. Firstly, a few Burning Godzilla's have been spotted in Hong Kong for sale. This means that it won't be long before it shows up online and in brick and mortar stores here in the US!
In addition, NECA has confirmed that they will no longer be producing the 6" tall Godzilla 2014 figure. So what's left online and in stores is it. Get it while you can. :)
Also, NECA has also revealed via Twitter that images of their upcoming Godzilla 1954 figure are soon to be released in gallery form:
Should be awesome!
Lastly, NECA has revealed that new Godzilla products will make an appearance at ToyFair in New York this February! With 4 Godzillas in the can and awaiting reveal, its only a matter of time before we see some new stuff!
1/15/15: While NECA still has yet to unleash the official promo pics of Godzilla 1954, this new banner was just released that teases both of NECA's upcoming Godzilla figures:
The Godzilla 1954 appears to be painted in grayscale, to mimic the B&W of hte original film.  How cool is that?!
Stay tuned for the official pics when they drop!
1/22/15: With ToyFair about a month away, anticipation for NECA's next Godzilla reveal (or possibly reveals!) is getting higher.  But thanks to Twitter, the process of elimination has begun for what we will NOT be seeing.  Check out this tweet:
https://twitter.com/NECA_TOYS/status/558257717354434560
Sorry for you Godzilla 2000 fans, but it looks like he's not coming any time soon. :( While this is rather dissapointing, it does eliminate a contender and narrow the field a little in regards to what we WILL see next month.  The signs, including some hints about persuing an NES (Nintendo Entertainment System) repaint in the future, are definitely pointing towards a Godzilla 1964 reveal, and NECA has made no statement confirming or, more importantly, denying such a figure.  We will have to wait and see... :)
2/15/15:
Well, ToyFair has come, and as we are all aware, NECA's Godzilla reveal was the long teased NES Godzilla. 
The reactions have been... mixed, at best.  The 8-bit sprite in the game is based on the 1964 Godzilla, and the box art features the 1954 Godzilla, so the choice of the 1984 mold has confused a lot of fans.
This is the sprite as it appeared in the game:
Although not ENTIRELY accurate in terms of sculpt, its, IN MY OPINION, close enough to the sprite.  They definitely nailed the pixelated paint job and those huge spines!  Although not everyone will love it, the fact remains that this is THE FIRST representation of this Godzilla in collectable form EVER.  And that is pretty cool!
In other news, the official reason that NECA's Burning Godzilla has been delayed AGAIN is because of a dock strike on the west cost.  All kinds of stuff is being delayed, so it could be March before it hits shelves. Lets hope the mess is resolved so we can get our figures!
3/8/15: I'm a few days late on posting this one, but FINALLY... F.I.N.A.L.L.Y.... NECA's Burning Godzilla is out and shipping from Amazon!!!!  After a hold up of nearly four months, the company's third Classic Godzilla figure is out there for the buying!  I'm gonna wait for it to pop up in my local Toys R Us, so I can check for quality control and avoid paying NECA's $9.00 shipping, but this thing WILL be mine!
The wait for Godzilla 1954's (hopefully) May release date continues!
UPDATE:
3/26/15: Well, NECA has spoken via Twitter.  It looks like they have pushed Godzilla 1954's release date back to the summer.  Dull surprise. -_- But apparently, the NES figure will come out before that, in May or June!  Not sure why they switched the two, but whaddya gonna do? ;)
Plus, check out these pictures of the 1954 prototype:
5/10/15: Not much, but here's this:
This is literally the ONLY news on this line we've gotten in nearly three months.  Lets hope NECA gets their act together.


Read more: http://www.godzilla-movies.com/community/forums/topic/39478&page=5#ixzz3Zn3pWF71
5/28/15: AAAAAAAAAAAAAAAAT LAAAAAAAAAAAAAAAAAAAAAAAAAST!!!!
After nearly a year stuck in limbo, NECA has FINALLY revealed the official promo images for their Godzilla 1954 figure, and given it a release date: November, 2015!  Hopefully this date turns out to be acurate, but until then, enjoy these official images of the fully painted prototype:
Preorder it here:
http://www.bigbadtoystore.com/bbts/prod ... ode=retail
6/23/15: The NES Godzilla is finally shipping from NECA, and is currently available from their Amazon store, among other online retailers.  Look for this figure to appear in your local toy stores soon!
To celebrate, enjoy this new shot of the figure in its collectable box:
Now bring on the next announcement, hopefully coming in a few weeks from SDCC!
7/5/15: ... well, nevermind.  NECA confirmed via Twitter a few days ago that there will be NO new Godzilla's revealed at SDCC. 
None.
N.O.N.E.
*sigh* well, at least their Pacific Rim line will be awesomely represented at the show, with the reveals of TWO new kaiju (speculated to be Hardship and Mutavore) and a few Jaegers (thought to be a Battle at the Docks Gipsy Danger, a Striker Eureka 2.0, and/or Brawler Yukon).  Now THAT'S awesome! 
If NECA really does have 2-3 more Godzilla's in the can, then you'd THINK they'd be at the show.  Guess not...
/rant
7/22/15: ..........................................................
WHAT.
THE.
ACTUAL.
$%@&.
NECA.
*ahem* Anyway, I've got one heck of a WIERD update for you guys.  It seems that all of NECA's 6" Godzilla figures have been DISCONTINUED.  Yep, you read that right.  Godzilla 1994, Godzilla 1984, Burning Godzilla, and yes, even the NES Godzilla (which hit stores a whopping THREE WEEKS AGO) have ALL been discontinued pending any further demand by retailers.  As the link above shows, the only products NECA currently has listed for the Godzilla series are the upcoming 1954 figure, the 24" G14, the Body Knocker, and the Scaler.
Thats it.
Now this doesn't mean that the figures aren't still available at stores, of course.  It DOES mean that, as of right now, whatever is in stores across the world and waiting in warehouses to be shipped out by online retailers is ALL thats left. 
If the demand arises, NECA could produce more of the discontinued figures in the future.  But just to be safe, if you want any of these guys and don't have them yet... ya may want to get on that.
Hopefully my next update won't be this bizarre or frustrating...
8/1/15: Well, here's an interesting update for you guys... it appears that NECA s a prototype of a Godzilla 2014 with translucent blue spines, but have been unable to do anything with it due to Toho's painfully slow approval process.
Huh.
More on this as it develops.
8/26/15: At LOOOOOOOOOOOOOOOOOOOOOOOOOOOOOOOOOOONG last...
... he is here.
Yep, after what seemed like an eternity of waiting, waiting, and for a change of pace, more waiting, NECA's highly anticipated Godzilla 1954 figure is SHIPPING TO RETAILERS!!!!!!!!  Its been a long wait, but at last, fans can own this awesome figure of the suit that started it all!
Check out NECA's new gallery here!
And if you just can't wait for this puppy to show up in your local Toys R Us...
Order yours fron NECA on eBay now!!!!
OUR LONG NATIONAL NIGHTMARE IS OVER!  LONG LIVE THE KING!!!!
1/25/16: WOW, it's been a long time since ANYTHING has come to light about this line. Ever since the stunning Godzilla 1954 figure was released last Fall, Godzilla fans have been awaiting the news of NECA's next new Godzilla figure. And waiting. And waiting. And, for a change of pace, waiting a bit more. It seemed that a perceived disinterest in the line by NECA, combined with Toho's notorious proclivity to veto concepts before they can be announced/released, had brought the line to a standstill.
However, rumors of NECA's disinterest in the Godzilla property have been GREATLY exaggerated, and fans now have something to look forward to… a new reveal at ToyFair 2016, next month in New York!
Heres the Tweet from NECA:
But that's not all… check this out:
Yep, you heard that right. THREE new Godzilla figures this year, if everything goes according to plan! This is huge and exciting news for sure, and now speculation can begin as to what we will see next month at NECA's always crowded and awesome ToyFair display.
Could we see the long requested Godzilla 1962, or perhaps a Godzilla 1964, in keeping with the "anniversary" theme? Could the new figure be a Millennium design, or maybe a concept/video game variant? Could NECA be working on a Shingoji figure based off of this year's hotly anticipated Godzilla: Resurgence? Only time will tell…
Be sure to check back for updates as they come to light! And keep those wallets at the ready!
2/19/16: Sorry, I am HIDEOUSLY late on this one (blame school, I do...), but, as most of you already know by now, NECA kept their word (almost), and gave us a sneak peak of the next Godzilla they plan to release this year.
ToyFair was a bit of a dissapointment for kaiju fans this year.  NECA's Pacific Rim display was awesome, but only one new figure was revealed (Ultimate Gipsy Danger), and they told us it was coming.  S.H.MonsterArts, as promised, had their new GMK figure dislplayed, but, once again, it wasnt a surprise.  In addition to Funko, Bandai Creations, and Diamond Select being no-shows with Godzilla stuff this year as well, the most dissapointing part of the show was the fact that, despite the promise, NECA had no new Godzilla at the show.  However, fan dissapointment soon turned to excitement when NECA made up for Godzilla's lack of presence at ToyFair by tweeting this image: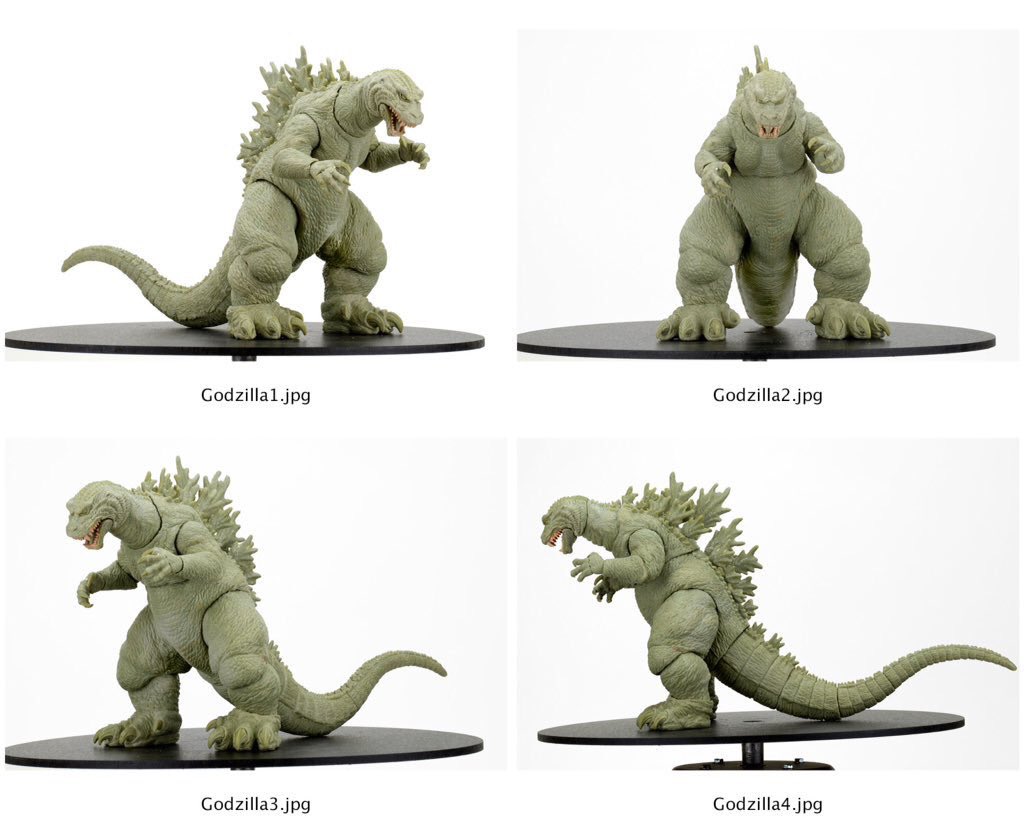 Whoa.
As you can expect, half of Godzilla fandom went nuts in a good way.  The last suit ANYBODY expected to get a NECA figure, due to S.H.MonsterArts' GMK being announced a month ago, was the long teased new Godzilla toy.  And man, even in wax and unpainted, this thing is gorgous.
However, like with literally everything in this fandom, the other half went nuts in a bad way.  Why do womething SHMA is already doing?  It didnt help that NECA then tweeted that this bad boy is due out in July, the same month as the SHMA version.  But to all the complainers out there, don't worry... this is NECA, chances are this thing wont be released until October/November. ;)
So now, Godzilla collectors have a choice to make... do they spend 20 dollars on this guy, 80 dollars on the SHMA, or splurge and by both?  Oh, the choices we fans have to make...
Stay tuned for more information/images of this bad boy as time goes on.  And remember, NECA has at least two more Godzillas in teh works that they havent shown us yet...


Read more: http://www.scified.com/topic/39478#ixzz40d8lofSH
(Information courtesy of Toho Kingdom, NECA's Twitter, and ImportingMonsters.com.)
"Fantasy is the impossible made probable. Science Fiction is the improbable made possible." -Rod Serling
PICK YOUR TITAN
96 Responses to The Official NECA Godzilla Information, Updates, and Discussion Thread
Add A Reply