Member
0
Posted Dec-28-2015 1:00 PM
I'm a very big Godzilla fan and apparently 29 films just aren't enough for me- I WANT MORE!!! 
I've been looking for un-official Godzilla movies but can't find anything, that's why I'm reaching out to you. If anybody knows of any please put them down below with a link if possible and, while they're great, I don't mean any short Youtube videos. I'm asking for full-on feature-length films as I'm sure that there's got to be some out there.
3 Responses to Unofficial Godzilla Movies?
There have, in fact, been a few feature length Godzilla features made over the years, but the problem is that most are unavailable to watch here in the U.S.  The most famous is a production from the 1980's called "Legendary Beast Wolfman vs Godzilla", an independently produced film that pits the 1962 Godzilla against a gigantic lycanthrope.  The film is actually still being completed, and is over 30 years in the making.  It is scheduled to debut at G-FEST 2016, with director Shizuo Nakajima in attendence.
More info here: In Search of Monsters
Other films of the like exist in Japan, including "Godzilla vs Seadora" and "Godzilla vs Death Gilas", but are currently impossible to watch.
As for productions made here in the U.S., there are a few, and thee are much easier to watch.  Currently a team of professional filmmakers, who happen to be Godzilla fans, re attempting to create a feature length film called Godzilla: Heritage.  Google it, and get ready to have your jaw hit the floor... And be sure o back their upcoming Kickstarter to get the film made!
As for films you can watch right now, check the incredible Godzilla: Battle Royale (watch it here), and the shorter but amazingly awesome Godzilla X The Kaiju Killer (watch it here).
Hope this helps!  Let me know if you want to know anything else about these and more productions!
"Fantasy is the impossible made probable. Science Fiction is the improbable made possible." -Rod Serling
Here are a few posters to get you excited!
Wolfman vs Godzilla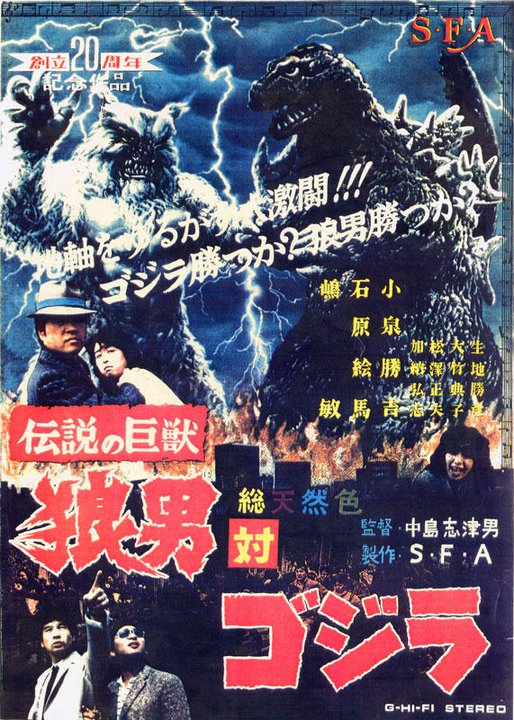 Godzilla: Heritage
Godzilla: Battle Royale
Godzilla X The Kaiju Killer
And for more info on independent/fan kaiju films, you might wanna start getting hyped for this documentary on the subject, and featuring footage from all of these movies (including the ones I mentioned above that cannot be seen here in the U.S.), comming out in 2016:
"Fantasy is the impossible made probable. Science Fiction is the improbable made possible." -Rod Serling
How about Attack Of The Galactic Monsters? 
http://www.dailymotion.com/video/x2bv3pg_attack-of-the-galactic-monsters_shortfilms
It's basically the Toho film 'War In Space' with lots of footage cut out and replaced with Godzilla fight scenes from 'Zone Fighter'!
EDIT: And btw it's only 55 minutes long.
Sign in to add a reply to this topic!