How did Anguirus Die in the Monsterverse, and How did Godzilla and King Ghidorah Become Rivals? (Theory)
1 Upvotes
20 Replies
Upvote
Add A Reply
Forum Topic
James Smilus #TeamGodzilla
After Looking Closely at KOTM, you can see Anguirus's Skeleton in Godzillas Home as the Nuclear Bomb went Off. But the Question is how did Anguirus Die? He Looked Like Godzillas Dog. Here is the Skeleton Drawn out and Sketched.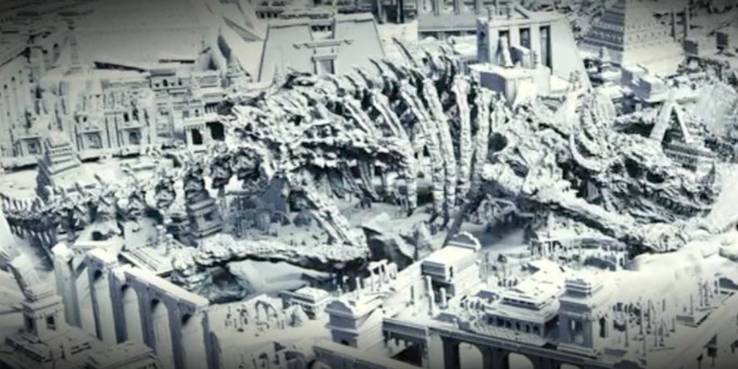 After Looking Closely, It's no Doubt its Anguirus. when you zoom in, There is A lot of bite marks and shocked parts of the Skeleton that shows he has been attacked. 
After KOTM, Michael Dougherty Confirmed that Godzilla and King Ghidorah Fought in Antarctica Long Ago and Godzilla Won. Godzilla Wouldn't Have Attacked Ghidorah if Something Set Him Off or Sensed that he was a Threat. 
Godzilla Must have been mad at Ghidorah for Killing something. That could be Anguirus, Just look at the past movies of the Friendship of Godzilla and Anguirus, well... except Godzilla Raids Again...
--------------------------------------------------------------
Now with that being said, Here is my Theory on how Anguirus Died. Also my Theory on How Godzilla and King Ghidorah Became Rivals.
Anguirus was probably Alone on Earth Just Minding his own Business, Suddenly a Soaring Shreek could be Heard, He Gets into a Defensive Stance, Then Ghidorah Flies Down and Grabs Anguirus by the Shell with his Talons, Godzilla Hears the Commotion from Miles away and Swims as Fast as he Can to Help his Friend. Anguirs Bites Ghdiorah's Leg and Roars, Ghidorah Shakes Anguirus off his Leg and Bites on Anguirus's Head. Godzilla Pushes his Tail Back and Fourth in the Water to Try to get to Anguirus as fast as he Can, Anguirus Roars in pain. Blood Sprays from Anguirus's Neck, Ghidorah Flies Upwards and Lifts anguirus up with his left and Right Heads, he Charges up and Fires his Gravity Beams at Anguirus's Stomach, Anguirus Roars in Pain Again and Falls Down to the Ground with a Massive Earthquake Rumble, Ghidorah Roars in Victory and Flies into the Clouds, Godzilla Arrives and Sees Ghdiorah FLying off in the Distance, He looks at Anguirus and is Devastated at what happened, Anguirus was on the Ground all Bloody and had Dirt all over him. Anguirus Didn't Make it. Godzilla Roars in Anger, After being Shocked at what Ghidorah Did to Anguirus, Godzilla Drags Anguirus's Body Down to his Home and Lays it down for a Ceremony, he  he is sad that his "Pet Dog" Died, He Then Promises that he will Guard Anguirus's Body at All Costs.
And that is how Anguirus Died and How Godzilla and King Ghidorah became Rivals.
Youtube Channel: James Inkton 2
"A Dino Doesn't Win
Because of Popularity, It's Because of Science"
James Inkton, August 28th, 2019.
PICK YOUR TITAN
20 Responses to How did Anguirus Die in the Monsterverse, and How did Godzilla and King Ghidorah Become Rivals? (Theory)
Add A Reply
Sign in to add a reply to this topic!