In 1999, Gamera 3: The Revenge of Iris resolved the Gamera Trilogy with a massive cliffhanger. In Fangoria magazine #173, Gamera Trilogy director Shusuke Kaneko said,
The three Gameras have a pre-planned continuity. In G1, Tokyo Tower is destroyed. In G2, the city of Sendai is laid to waste, and in G3, perhaps the fate of Japan and the world will be in the balance. That leaves nothing for G4. To me, Gamera is a 3-act play.
This didn't stop Shinpei Hayashiya from creating his vision of a followup.
Shinpei Hayashiya is the director of Reigo: King of the Sea Monsters and Raiga: God of the Monsters. (Both films made their North American, home video debut last year.) A passionate kaiju fan, his love for the genre inspired him to create a follow-up to the universally praised Gamera Trilogy. Gamera 4: Truth has been screened multiple times in Japan and at G-Fest 2014. It isn't available on home media in any country, including Japan, but the director isn't shy when it comes to talking about his early 2000s project.
I spoke with Shinpei Hayashiya about his work with Gamera 4 and how he made his dream come true.
(Gamera 4 poster. Image provided by Shinpei Hayashiya)
B:
Mr. Hayashiya, thank you for this interview. What made you decide to make Gamera 4?
I wanted to make a continuation of the last film Gamera 3. But since it was not produced, I thought I had to make it myself and requested permission from Daiei, but if there was no money transfer, I replied it was okay. After that, I started shooting from where Gamera 3 ended, where the injured Gamera is attacked by countless Gyaos.
Interesting. So the movie starts where Gamera 3 ends?
Yes.
Awesome! So, Gamera is killed and earth's mana revives a new Gamera, right?
Yes, the new Gamera was born not to protect humans, but to only kill Gyaos.
Gamera in Gamera 4. Image provided by Shinpei Hayashiya)
(Gamera in Gamera 4.)
(Gamera suit used in Gamera 4. Image provided by Shinpei Hayashiya)
Please tell me about the operation of special effects. Who shot the special effects?
The CG of Gamera 4 was shot by Kazuya Hayashi (3D animator, Reigo), and the miniature special effects were shot by Yutaka Arai (assistant animation director, Adieu: Galaxy Express 999) and eight other staff members. But all staff members are involved.
(Image provided by Shinpei Hayashiya)
Very cool! Tell me about the Albino Gyaos.
Albino Gyaos is a species that has abnormal DNA in a group that has been outbreaking too much. Life sustaining, ferocious and cunning. A variant of Gyaos created as a power counter when the protection of Gamera has collapsed.
(Albino Gyaos. Image provided by Shinpei Hayashiya)
How did you direct the movie? Please tell me.
It was fun, and I had to make my own Gamera and Gyaos monster suit, and as the director I got to do anything. Also, it's fun to be able to make a masterpiece with a major monster called Gamera.
Shusuke Kaneko came to see your movie. What did he think of Gamera 4?
Director Kaneko said that if he were to make Gamera 4, it would have the same beginnings of my Gamera 4.
Interesting. So, what happens at the end of the movie?
Gamera, who defeated Albino Gyaos, heads to Tokyo. The Gamera, who had been injured and exhausted in the battle sensed a myriad of eggs of mysterious creatures in the basement of Tokyo, and sacrificed himself by blowing up with the eggs. Peace had returned to Earth.
Were you excited about Daiei granting you the Gamera 4 production?
Rather than excited, I decided that I had to make it and not be shamed by Gamera fans. It was important to pursue the continuation of Gamera 3 in the right way.
What happened to the Godzilla movie you intended to make?
Godzilla vs. Deathgilas is completed, but it is my debut work. I can't think of any other Godzilla movie.
How much fun did you have working with the crew on Gamera 4?
All of them liked monsters, so they could shoot and edit without stress. It was hard to go to because it the location of the shooting was two and a half hours away from Tokyo, but I enjoyed singing the Ultraman series with the staff in the car.
Do you think Gamera 4 will be released on DVD?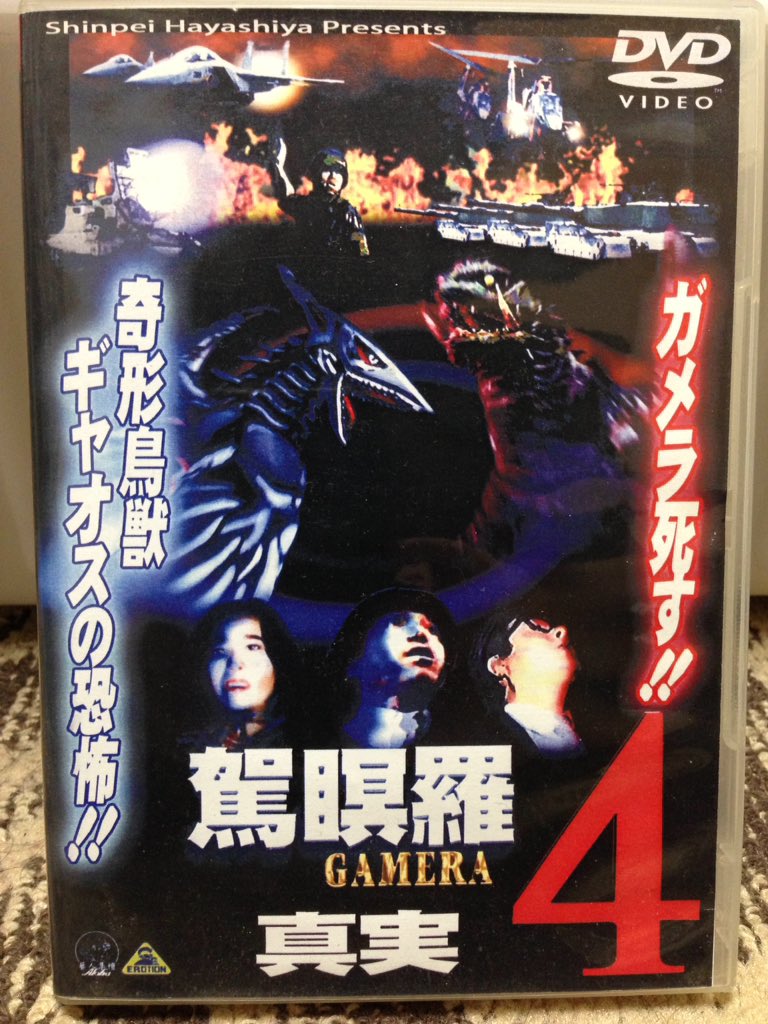 (Gamera 4 DVD cover.)
There is no release, but there will be a screening the day after tomorrow lol.
Thank you for your time in this interview.
Thank you for you hard work.
You can follow Shinpei Hayashiya on Facebook.
If you are a fan of Godzilla and are looking for an exclusive online community to share your passion and engage with other die-hard Godzilla fans, look no further! Join in the Godzilla Movies forum - a dedicated community of Godzilla movie and Monsterverse fans!
Get G-ed Up!
With the upcoming release of Adam Wingard's Godzilla vs. Kong, now is a great time to pick your Titan and represent Godzilla or Kong! Check out some products below and click here for even more options!
This article was written By Huge-Ben and published on 2020-01-24 15:36:18
More about upcoming Godzilla movies
Godzilla vs. Kong (2021) is the sequel to Michael Dougherty's Godzilla 2: King of the Monsters and will be the fourth and final installment in the Monsterverse movie quadrilogy. It will also bridge both the Godzilla movies and Kong: Skull Island by bringing Godzilla and Kong face-to-face for an epic match-up. To learn more about Godzilla vs. Kong, check out the Godzilla vs. Kong about page here!
Stay up to date with the latest news on Godzilla vs. Kong (2021) by liking us on Facebook and by following us on Twitter and Instagram! Also, consider subscribing your email to our blog for instant notifications of when new posts are made!