Grand King Ghidorah should have been in Godzilla series instead of mothra
1,091 Views
3 Replies
Add A Reply
Forum Topic
Mothra Larvae
Member
0 XP
Nov-19-2014 12:53 AM
Why would Toho put Grand King Ghidorah in Mothra series instead of Godzilla? He would have put more fight than any other Ghidorah because he can reflect any ray attack.
PICK YOUR TITAN
3 Responses to Grand King Ghidorah should have been in Godzilla series instead of mothra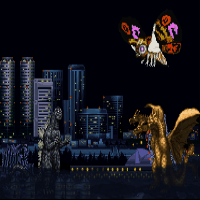 Mothra Larvae
Member
0 XP
Nov-19-2014 4:43 AM
the Mothra trilogy takes place in an alternate continuity not the heisei Godzilla universe, also almost every ghidorah is whay stronger than its godzilla counter part
Evacuate?, Godzilla is just a Legend!-Woman in GMK
Mothra Larvae
Member
2 XP
Nov-19-2014 4:46 AM
Grand King Ghidorah is still just King Ghidorah. The "Grand" in his name was just put in the English dub for no reason in some scenes. The version of King Ghidorah in that movie has some interesting new powers, but he's actually much smaller than he normally is when fighting Godzilla.
"When man falls into conflict with nature, monsters are born." - Professor Hayashida, The Return of Godzilla
Gigan
Admin
4385 XP
Nov-19-2014 5:38 PM
Team Ghidorah
The term "Grand" King Ghidorah was actually around long before the dub (which admittedly I have not watched). But as far as I can tell it's just used to differentiate the character from other King Ghidorah incarnations, or even the Cretaceous incarnation in the same movie.
He has some interesting powers, but they seem to be tailored for the Rebirth of Mothra trilogy's fantasy elements. (Such as mind controlling.) But he is one of the smallest King Ghidorah incarnations. Only 11 meters taller than the GMK King Ghidorah.
"'Nostalgic' does not equal 'good,' and 'standards' does not equal 'elitism.'" "Being offended is inevitable. Living offended is your choice."
Add A Reply