The ToyFair Report: Upcoming Kaiju Toys of 2015 UPDATED
0 Upvotes
20 Replies
Upvote
Add A Reply
Forum Topic
Danzilla93 #TeamMothra
Greetings, Godzilla collectors!
Well, it's that magical time of year again… ToyFair is happening in New York, and boy… did we get some kaiju goodies! From the Godzilla franchise to Pacific Rim, from good ol' vinyls to movie prop replicas, we definitely got some awesome stuff revealed this weekend! NECA, Tamashii, Bandai Creation, and Diamond Select Toys showed off some sweet merchandise, and this will be the thread to share what's been found, and to discuss the awesomeness that IS ToyFair!
Have fun!!!!
This is a list of what we've seen so far, organized by company. I'll update it if anything else is discovered:
NECA
Godzilla Merchandise:
NES Godzilla:
Pacific Rim Merchandise:
Movie Replica Chibi Figures (SDCC Exclusives)
Featuring:
-Romeo Blue
-Horizon Brave
-Hardship
-Axehead
-Karloff
Bandai Creation
12 Inch Godzilla 2014 Vinyl
Hatchin' Heroes (Godzilla Egg Series Exported to U.S.)
Daimond Select Toys Merchandise
Godzilla 1974 Figure Bank
Rodan 1993 Figure Bank
Stuff We Knew About That Was Shown Anyway
NECA Godzilla 1954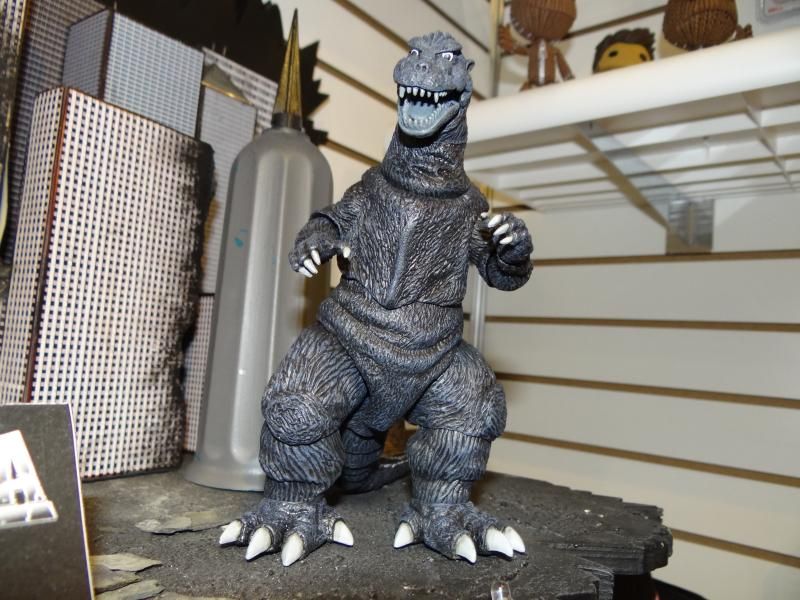 NECA Jaeger Series 6/Deluxe Otachi
18 Inch Striker Eureka
6 Inch Rubber Baby Otachi
Diamond Select Toys Godzilla 2000 Pizza Cutter
Toynami Shogun Warriors Godzilla
Toynami Heisei Godzilla Statue
Toynami Godzilla Plush
S.H.MonsterArts Godzilla 2014 Spitfire Version
S.H.MonsterArts Mecha-King Ghidorah
Assorted Bandai Creation Godzilla Figures
NEWS
Aside from showing off figures, a few companies provided (and are continuing to provide) info on figures not shown at ToyFair, but hey are using the show as a platform to announce new products!  Check back for updates.
NECA:
In addition to showing off the new Chibi figures (based on toys actually seen on screen in the prologue of Pacific Rim!), NECA confirmed that there are more 7 inch scale, regular figures to come!  Check out their tweet:
"At least 5 more Jaeger & 3 more Kaiju in development, not shown here @ToyFairNY much more Pacific Rim to come"
So... THAT'S exciting!!!! :D We already know Winged Otachi is coming (a prototype has been sighted before), but its unknown if that is one of the three mentioned in the tweet!  All we do know is, 8 more characters are coming our way!  Let the wait, and the speculation, begin!!!!
Bandai Creation:
Acording to Chris at Toho Kingdom (read through this page for his tease!), thanks to fan feedback, Bandai has ANOTHER 12 inch figure in the works that was NOT revealed at ToyFair!  The figure is one requested by fans thank to Bandai's email outreach a few months ago that asked for fans to send in requests, from which they would select new monsters to make for the line!  Its only a matter of time before the new figure(s) are relvealed!
"Fantasy is the impossible made probable. Science Fiction is the improbable made possible." -Rod Serling
20 Responses to The ToyFair Report: Upcoming Kaiju Toys of 2015 UPDATED
Add A Reply
Sign in to add a reply to this topic!