what got you into godzilla movies?
813 Views
5 Replies
Add A Reply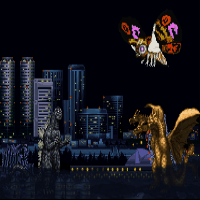 Mothra Larvae
Member
0 XP
Jul-07-2014 7:57 PM
what was the reason you became a fan of godzilla movies? not the first movie you saw but the reason
the reason i bacame a fan is that all the first godzilla movies that i saw where the heisei ones that where good but godzilla didn't look like a villan or a treat he was more of an anty-hero but then i saw the millenium and loved how they taked godzilla more seriously like GMK, thats when i got hooked up on the franshise
Evacuate?, Godzilla is just a Legend!-Woman in GMK
PICK YOUR TITAN
5 Responses to what got you into godzilla movies?
Add A Reply