Mothra Larvae
Member
0 XP
Jul-08-2014 12:41 PM
Now I've seen the American film version of the 1954 Gojira movie, but have not seen the millennium movie with Kiryu. For those that don't know him, Kiryu was Toho's latest version of MechaGodzilla. Kiryu was different from the others for it used the skeleton of the original 1954 Gojira as a powersource/frame. However, this let the personality of the original 1954 Gojira take conttrol of the machine from time to time.
So imagine this, a strange space-time paradox has occured and the 1954 Gojira (before going to Tokyo) bumps into Kiryu... what happens next? Would they fight, if so who wins? If not, what then?
*To determine a possible winner, use the stats of the two below*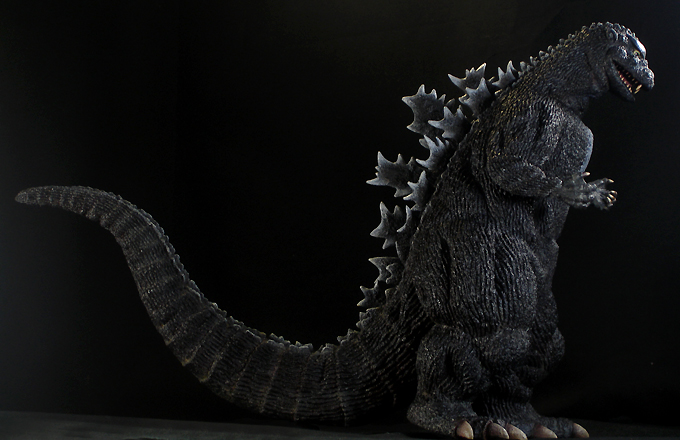 1954 Gojira
Height: 164'
Abilities: Ability to breath on land and in water; Tough Armored Hide; Great Physical Strength; Atomic Gas/Vapor Breath (Extremely super-heated vapor gas and nuclear radiation).
Kiryu (2nd version)
Height: 197'
Abilities: Has two Type 90 Maser Cannons in mouth; twin laser cannons mounted on each arm; able to morph his right hand into a drill; rocket boosters that enable limited flying; equipped with two shoulder mounted rocket launchers each capable of firing six rockets in the front and eight heat seeking missiles from the sides and back; able to fire off each of his two shoulder mounted rocket launchers which will cause huge explosions on impact; able to extend some of its wires through ports on its neck to latch onto objects; Hyper Maser contained in Kiryu's chest that fires off three maser blasts.
*Note, from videos and the fan-game DAIKAIJU BATTLE ROYALE, the "MASER" blasts look like lightning attacks*
I believe in Jesus Christ, who's my Lord and Savior.
John 3:16, Job 41:1-34, Leviticus 18:22
PICK YOUR TITAN
17 Responses to 1954 Gojira vs Kiryu
Add A Reply