GMK, What it Could Have Been
8,508 Views
18 Replies
Add A Reply
Mothra Larvae
Member
0 XP
Oct-27-2014 6:34 AM
GMK, Giant Monsters All Out Attack. It's one of my favorite Godzilla movies and some of your favorite movies as well. Ghost eyed Godzilla, Baragon in a new design, deep meanings! This was a great movie, but what could have it been? In the development of this movie, like many of you know, Toho was origianlly going to have Godzilla fight Baragon (which he does), Anguirus, and Varan. My question for you all is this. Would GMK had been better if Toho used Varan and Anguirus insted of Mothra and "Good" King Ghidorah? Would it have better fights or would they be worse since Godzilla would be fighting smaller monsters? AND WOULD THE DOG STILL BE SAVED FROM THOSE HORRIBLE TEENAGERS? Let's hear what you guys have to hear. Small monsters Unite!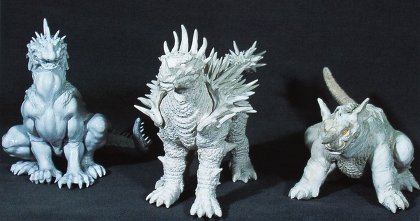 Also as a side note, if you think Varan and Anguirus shold have been in GMK, give a description on what they would do and how they fit into the story.
Edit: I can't stop adding pictures. I can't stop!
PICK YOUR TITAN
18 Responses to GMK, What it Could Have Been
Add A Reply