Over the last few years, Kaiju/giant monster projects have flourished in the ever popular realm of crowdfunding campaigns. Projects such as Kyle Yount's Hail to the King: 60 Years of Destruction documentary, TWO monster music centric G-FEST live concerts, the incredible World War Kaiju graphic novel, several attempts to fund the epic fan film Godzilla: Heritage, and even several Rifftrax live show seasons that featured riffs on films like the 1998 Godzilla and the classic 1961 masterpiece Mothra have allowed monster fans to put their money where their mouths are, and help bring more giant monster goodness into the world.
With Kaiju coming back in a big way, its little surprise that more campaigns will be coming, and it so happens that this month, there are THREE different campaigns that not only deserve your money, but need it to become a reality. As always, each campaign offers a TON of awesome rewards to backers, and many different reward tiers to choose from!
Without further ado, here is a closer look at the three projects:
King Kong of Skull Island
2017, of course, marks the triumphant return of the 8th Wonder of the World to cinemas around the world, via the action packed adventure Kong: Skull Island. However, with your help, the legend of Kong and his island home will be expanded even further, stretching back to finally reveal the earliest origins of the civilization that would come to inhabit Skull Island.
Over the last nearly 30 years, artist Jo DeVito has taken it upon himself to attempt what was before thought to be an impossible task: the creation of an official prequel universe set in the world of the original King Kong story seen in the 1933 classic masterpiece that started it all. With the blessing of the estate of Marion C. Cooper (the creator of King Kong), DeVito and writing partner Brad Strickland penned the incredible book Kong, King of Skull Island, back in the mid 2000's. Featuring beautiful pained artwork and a thrilling story in the tradition of the finest adventure novels, the book acted as both a prequel and sequel to the original Kong story, with the son of Carl Denham venturing back to Skull Island in search of his father. There, he is told the epic and brutal story of the island's history, and of the origins of Kong himself. If you are a Kong fan, and have ever asked yourself questions like "Just where did the civilization on Skull Island come from?", or "Why was the Great Wall constructed, and how?", or have ever wondered just who Kong is, where he came from, why sacrifices were made to him, and where his body went after his famous fall from the Empire State Building, look no further than this book.
Now, DeVito and Strickland are hoping to expand that story even farther than ever before, with the new, lavishly illustrated tome King Kong of Skull Island. It is the creation of this book that is the goal of the recently launched Kickstarter campaign, and it will surely be a book no Kong fan will want to be without.
Here's the official description:
In development for 25 years, King Kong of Skull Island features a 95,000 word novel in two parts. 
Part 1: EXODUS delves into the hidden history of the Tagatu civilization, the origins of the mighty Kongs and the strange, ancient interactions that enabled their survival in the midst of disastrous events. Facing impossible obstacles, the spectacular exodus of an entire civilization unfolds against a cataclysmic backdrop leading to an unlikely destination: Skull Island. Unless a solution can be found quickly, the unimaginable dangers encountered there threaten to forever wipe them from the face of the earth…
Part 2: THE WALL tells the incredible story of what happened on Skull Island after the arrival there of the first human civilization, their interaction with the prehistoric Kongs, and the war for species survival against the island's strange saurian denizens. Life there has not stood still, but continued to evolve for tens of millions of years to a point where humans may no longer be dominant. The inevitable, penultimate war for survival between humans, Kongs and super-saurians takes place against the backdrop of the massive undertaking of the building of the iconic Wall: A barrier that will span the millennia to play a major role in the eventual rise and fall of the mythic beast-god of Skull Island, King Kong!
King Kong of Skull Island also contains the 30,000 word "Denham Diaries", a retelling of DeVito's original Skull Island story that reveals the fate of Carl Denham in the wake of King Kong's death, recounts the epic adventure of how Kong became a King, and determines the fate of the Tagatu people. Along the way many mysteries of Skull Island are uncovered, effectively making the island a character in its own right. The book will also feature an extensive, lavishly illustrated sketchbook section of over 25,000 words by DeVito that digs into the foundations of Skull Island as never before, as well as a lush, full–color Kong/Skull Island art gallery!
Pledge today to get your copy of this exciting and soon to be rare book! 
Pledging as low as $10 will get you a text only E-Book copy of King Kong of Skull Island, while 25 dollars gets you a PDF with the illustrations. $49 dollars gets you the full, hardcover version, complete with slipcase! While the Kickstarter is currently fully funded, stretch goals include extra content and a dust jacket. Furthermore, this edition will ONLY be available via this campaign, so if you want a copy, this is your only chance! Visit the Kickstarter page and get it while the getting's good!
Kaiju Epic! Chapter One
Over the last half a decade, the invasion of Kaiju comic books and graphic novels has been a treat for fans of both comics and giant monsters. From IDW's run of Godzilla books, to other comic series such as Zander Cannon's amazing Kaijumax and the comic adaptations of Project: Nemesis and Island 731, Kaiju have proven that there is no format they can't succeed in.
Now, there is a new Kaiju comic on the horison, and it promises to be one of the most "Epic" yet!
Introducing Kaiju Epic!, the newest project from Shahrazad creators Tom Hutchison and Kari Castor of Big Dog Ink. Combining "giant monsters, ancient legends, and rock & roll", this first, 48 page chapter of the series (which will be 5 chapters long) kicks off a story that is told from two perspectives, one from each side of the globe, as ancient Kaiju awaken in accordance with the Hopi legends of the apocalypse.
Here's the description:
Kaiju Epic! will be a 5 volume series each with two separate stories. These stories will take place on opposite ends of the globe and give a real feeling of the end of the world, rather than the destruction of a specific city. Tom is joined by co-writer Kari Castor. Kari is known to BDI fans as one of the writers of the hit mini-series, Shahrazad. Kaiju Epic! is no standard comic book, either! This is a huge 48 page monster sized comic book!
Tom's story takes place in both China and the South America, specifically the Gulf of Mexico, where legendary Bermeja Island has reappeared in the Gulf after being lost for decades. In China, a dragon headed tower has been unearthed, and it carries with it a strange connection to Bermeja and the rock concert that is planned to take place there.
Kari's story takes place in London, England and follows a group of friends who have a tendency to dabble in eco-politics and animal protection. But this group is forced to re-evaluate their stance when something from London's legends of old appears and begins to shake London to the ground!
The Kickstarter campaign will allow the series to get its first issue into print, and allow the team to begin work on the next 4 volumes. As incentive, the campaign offers backers of the campaign a chance to get a copy of the first issue with one (or more, depending on how much you pledge) of the first issue's many amazing variant covers! Cover artists and collaboraters include Samantha Sawyer, Rob Duenas, and… drumroll please… the amazing MATT FRANK!
Other perks include tee shirts, a copy of the team's other graphic novel, Shahrazad, and even a chance to be drawn into the book and crushed by a kaiju!
Currently, the campaign has only 7 days left, and still needs $2,500 to be fully funded. You can pledge as little as $2 to get your name in the back of the book, and $10 to get a digital copy of the comic. Starting at $20, you can reserve your copy of the first issue, with five different beautiful covers to choose from!
Help this new Kaiju book become a reality! Check out the Kickstarter page and see if this project is to your liking!
Kaiju Box 2… Featuring NECA's Shin Godzilla!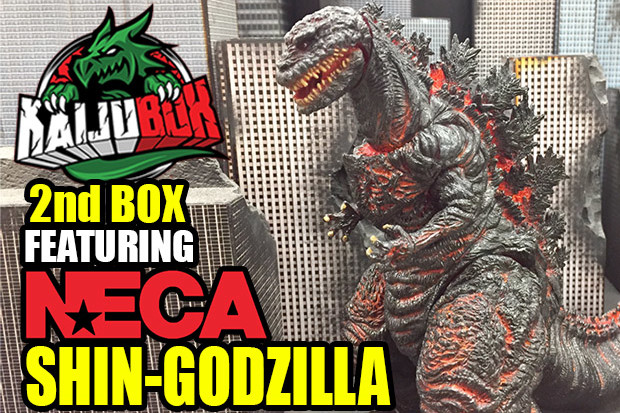 Back in January, a successful Indiegogo campaign funded the first of what promises to be many goodie filled subscription boxes for the Kaiju connoisseur. And this month, a new campaign has started for the next one…
Introducing Kaiju Box, the first Kaiju-centric subscription box! Functioning the same way as the popular Loot Crate, Kaiju Box LLC. offers big boxes filled with nothing but awesome giant monster products via consumer subscription, mailed to your doorstep and sure to provide you with epic collectables like comics, toys/figures, tee shirts, art prints, novelties, and more!
Although preorders for the first box are no longer available, the company has just launched a new campaign to fund the second Kaiju Box, due to be mailed out in April or May. The Theme? Kong: Skull Island and Shin Godzilla! The highlight of the new box will be NECA'S new Shin Godzilla articulated action figure, one of the company's most anticipated figures of the year!
The Box comes in two version, a "Standard Edition" without the figure, and a "Colossal Edition" with all the fixings, including the aforementioned NECA Shin Godzilla figure, a tee shirt designed by Kaiju artist extraordinaire Jeff Zornow, a second limited edition tee shirt, a Godzilla mini figure, a mystery Kaiju comic book and DVD, a set of small mystery items, and a further 8 mystery items! This is a deal Kaiju fans won't want to miss. Visit the campaign page and pledge to reserve your Kaiju Box!
So, what do you think? Do any of these Kaiju campaigns peek your interest? Will be donating to one of them, or perhaps give a little money to each one? Let us know in the comments section below, and be sure to keep it locked to Scified for any and all future giant monster news!
If you are a fan of Godzilla and are looking for an exclusive online community to share your passion and engage with other die-hard Godzilla fans, look no further! Join in the Godzilla Movies forum - a dedicated community of Godzilla movie and Monsterverse fans!
Get G-ed Up!
With the upcoming release of Adam Wingard's Godzilla vs. Kong, now is a great time to pick your Titan and represent Godzilla or Kong! Check out some products below and click here for even more options!
This article was written By Danzilla93 and published on 2017-03-13 09:56:28
More about upcoming Godzilla movies
Godzilla vs. Kong (2021) is the sequel to Michael Dougherty's Godzilla 2: King of the Monsters and will be the fourth and final installment in the Monsterverse movie quadrilogy. It will also bridge both the Godzilla movies and Kong: Skull Island by bringing Godzilla and Kong face-to-face for an epic match-up. To learn more about Godzilla vs. Kong, check out the Godzilla vs. Kong about page here!
Stay up to date with the latest news on Godzilla vs. Kong (2021) by liking us on Facebook and by following us on Twitter and Instagram! Also, consider subscribing your email to our blog for instant notifications of when new posts are made!