As fans of the Big G are aware, July 29th will see the advent of the long awaited return of the Monster King to Japanese cinemas with Godzilla: Resurgence, brought to fruition by the creative team of tokusatsu veteran Shinji Higuchi and anime legend Hideaki Anno. Anno is, of course, most famous for unleashing the enigmatic anime Neon Genesis Evangelion back in the 1990's, and the director of the recent "rebuild" series of Evangelion theatrical features. Toho has been keen to use this connection between Anno and one of Japan's most popular anime series to further promote Godzilla: Resuregence, and have released several pieces of merchandise that feature the worlds of Godzilla and Eva crossed over, including the infamous April Fools Day "Godzilla vs Evangelion" prank and poster, pictured below.
Continuing this trend of crossover merchandise, Bandai/Tamashii Nations have just revealed what might be the strangest of these items yet… a new S.H.MonsterArts Godzilla figure painted with the famous colors of Eva Unit 01…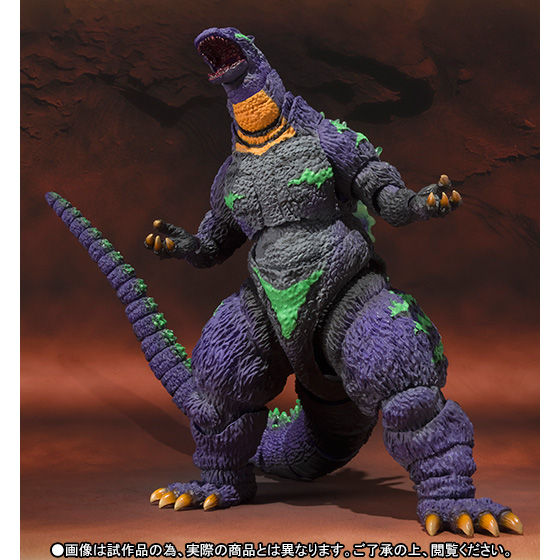 While details are still scarce about this figure (price, release date, U.S. release, etc.), what is clear is that it is a repaint of Tamashii's popular Rebirth Godzilla (or Adult Godzilla Junior) figure first released in 2014 to commemorate Godzilla's 60th anniversary. Furthermore, a translation from the Bandai Web Shop confirms that this figure will be a limited edition web exclusive, and will feature interchangeable hands and "an effects set". What will be included in this effects set is unknown, but expect it to drive up the price!
Expect more info to drop about this figure soon. This page will be updated as soon as more is known!
So, what do you think of the new "Eva-zilla" repaint? Is it unique enough, cool enough, or downright weird enough for you to add to your collection? Let us know, and be sure to keep it locked to Scified for more news on Godzilla: Resurgence and its related merchandise as it drops! Also, if you are a diehard Godzilla collector, be sure to check out the Official S.H.MonsterArts Info and Updates Thread for discussions on the SHMA line's past, present, and future!
Info courtesy of Toho Kingdom and Tamashii Webshop.
If you are a fan of Godzilla, Toho and the Monsterverse and are looking for a welcoming online community to share your passion and engage with other die-hard Godzilla fans, look no further! Join in the Godzilla Movies forum - a dedicated community of Godzilla movie and Monsterverse fans!
Godzilla Quick Links
Get G-ed Up!
With the upcoming release of Adam Wingard's Godzilla vs. Kong, now is a great time to pick your Titan and represent Godzilla or Kong! Check out some products below and click here for even more options!
This article was written By Danzilla93 and published on 2016-05-19 22:28:22
More about upcoming Godzilla & Monsterverse projects
Godzilla vs. Kong was the sequel to Michael Dougherty's Godzilla 2: King of the Monsters and was the fourth and final installment in the Monsterverse movie quadrilogy. Now, the Monsterverse takes a new direction - into TV! On January 20th, 2022 Legendary announced a new live-action Godzilla Monsterverse TV Series which will stream on Apple TV Plus network! Be sure to check Godzilla-Movies often for the latest news and info on the Monsterverse TV Series and all things Toho Godzilla as well!
Stay up to date with the latest news on all things Godzilla, Toho and the Monsterverse also by liking us on Facebook and by following us on Twitter and Instagram! Also, consider subscribing your email to our blog for instant notifications of when new posts are made!