Tamashii has certainly been busy lately, with 2016 featuring a sizable slate of releases in the company's popular S.H.MonsterArts line of super articulated action figures. Cashing in on the immense success of Toho's Shin Godzilla, still doing brisk business in Japan and set to open here in America in just a few weeks, collectors have been assaulted with new and exciting figures of the King of the Monsters this year. And with 2017 right around the corner, a whole new year worth of announcements is beginning!
Following the reveal of the Special Color Version Destoroyah last month, Tamashii dropped a bombshell in September by announcing yet another Heisei re-release: the 1993 Mechagodzilla, originally released in 2012 as the S.H.MonsterArts line's second figure. However, it's not Mechagodzilla himself that's the big news, but what comes with him…
As many fans know, around the time Mechagodzilla was released, two SHMA effects sets were released exclusively in Japan. The first, a Godzilla effect set, featured a number of miniature vehicles and a red atomic breath effect. The second was specific to Mechagodzilla, and featured a fully posable Garuda, the giant airship that, while at first considered an obsolete weapon, is later upgraded to attach to Mechagodzilla's back to form Super Mechagodzilla in the 1993 G-epic Godzilla vs Mechagodzilla II. Complete with an array of weapons, a flight stand, and even the infamous G-Crusher cables that nearly killed Godzilla in the film, the Garuda set sold out in Japan very quickly, and, since it was never made available to North American fans, began to fetch astronomical after market prices. Today, fans can expect to pay no less than $200 dollars for this set.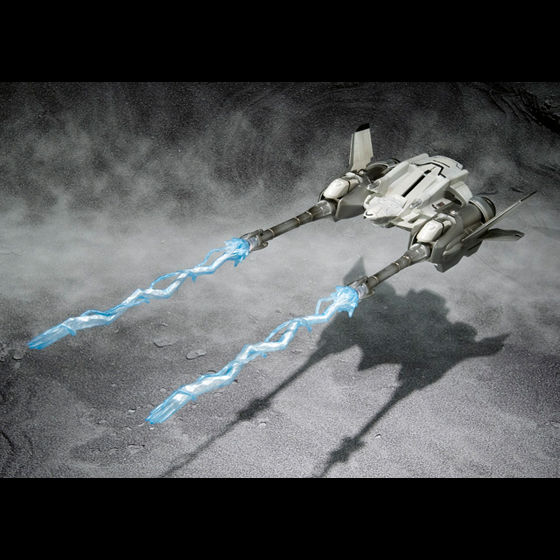 Due to the insane sums of money needed to acquire the set, fans began to beg Tamashii for a re-release. However, time and time again, the company insisted that such a re-release was impossible. The set was sold as a limited Tamashii web shop exclusive, meaning that only a certain, limited quantity were ever made. As collectors of Tamashii's figures know, web shop exclusives are made specifically for the collectors that order them first, and once they are gone, they are never released again so as not to damage the collectability and value of the existing figures. In short, the sets are first come, first serve. As part of their business policy, Tamashii will never release an exclusive figure a second time.
However, in recent years, Tamashii has, due to the insistence of newer collectors, found a loophole to their own rule. If a figure or set is re-released with different colors and given a different name, then the company will identify it as a completely different toy, meaning that an exclusive mold can be re-released. Recently, Tamashii has done this with the web exclusive Godzilla 1964 figure, which was re-released last year as the Godzilla 1964 Emergence Version (colored to look as though he has dirt on his back, replicating Godzilla's emergence from the silt in the film Mothra vs Godzilla). The trick has allowed many exclusive molds to see the light of day once again, and now, at last, the most requested figure in Tamashii's history has finally been cleared to fly again…
Releasing in April, 2017, in North America, the S.H.MonsterArts Super Mechagodzilla will resurrect the 1993 version of the Monster King's robotic doppelganger, this time featuring a brilliant metallic paint job, improved waist and ankle joints, new neck articulation to allow for a conversion to flight mode without the need of extra neck parts, and, most exciting of all, the Garuda itself! The figure Tamashii swore it would never re-release will come with parts to enable it to attach to Mechagodzilla's back, and a flight stand for solo display. The figure also comes with a Mega Buster waist part, and straight fingered flight mode hands. The myriad of beams and effect parts that accompanied the original Mechagodzilla and Garuda sets will not be included in this set. Expect this beautiful figure to cost you $114.99.
In other S.H.MonsterArts news, the answers surrounding the mysterious lack of an American release date for the company's highly anticipated Shin Godzilla figure, announced months ago, have finally been answered. Unfortunately for collectors here in the US, Shin Godzilla will NOT be released here via Bluefin. Although the plan was to release the figure here in conjunction with a North American theatrical release of the movie, at the time of the figure's announcement, no deal for such a release was made. Funimation had yet to secure the rights to the film, and Tamashii had to act in order to insure the figures were produced and distributed at the date they set for its release. With the rights to Shin Godzilla then uncertain and muddled here in America, the decision was made to make the figure a Japanese Exclusive.
While this is a disappointment for American fans, all hope is not lost. Although preorders for the figure have closed on all sited due to high demand, the figure's status as a general release insures that, once the release date of November, 2016, comes, the figure will be plentiful enough that North American fans can easily import theirs from Japan. While importing fees might be high, a number of Japanese sites will ship the figure to the US. For anyone interested in buying the figure via this route, the purchasing links on this page may be of help!
And for those who would rather not import the current Shin Godzilla figure, there's always the choice of waiting for a potential "Spitfire Version" in the future…
What do you think of these announcements? Will you add Super Mechagodzilla to your collection? Are you excited at the prospect of finally owning Garuda? Are you disappointed that Shin Godzilla won't be arriving in North America? Let us know in the comments below, and be sure to check out Scified's Official S.H.MonsterArts Info and Updates Thread for discussions on the line's past, present, and future!
Sources: SHMA The Articulation Series; SHMA The Articulation Series Facebook
If you are a fan of Godzilla, Toho and the Monsterverse and are looking for a welcoming online community to share your passion and engage with other die-hard Godzilla fans, look no further! Join in the Godzilla Movies forum - a dedicated community of Godzilla movie and Monsterverse fans!
Godzilla Quick Links
Get G-ed Up!
With the upcoming release of Adam Wingard's Godzilla vs. Kong, now is a great time to pick your Titan and represent Godzilla or Kong! Check out some products below and click here for even more options!
This article was written By Danzilla93 and published on 2016-09-28 20:52:51
More about upcoming Godzilla & Monsterverse projects
Godzilla vs. Kong was the sequel to Michael Dougherty's Godzilla 2: King of the Monsters and was the fourth and final installment in the Monsterverse movie quadrilogy. Now, the Monsterverse takes a new direction - into TV! On January 20th, 2022 Legendary announced a new live-action Godzilla Monsterverse TV Series which will stream on Apple TV Plus network! Be sure to check Godzilla-Movies often for the latest news and info on the Monsterverse TV Series and all things Toho Godzilla as well!
Stay up to date with the latest news on all things Godzilla, Toho and the Monsterverse also by liking us on Facebook and by following us on Twitter and Instagram! Also, consider subscribing your email to our blog for instant notifications of when new posts are made!