Why Ford's Character Suffers in Godzilla (2014)! (Does Ford's Character Suck?)
Pinned Topic
13,822 Views
29 Replies
Add A Reply
Mothra Larvae
Member
0 XP
Oct-06-2014 4:31 AM
"InstinctiveGigan, why are you making more topics about the flaws of Godzilla (2014)? The film has already been out on DVD for nearly a month, why continually talk crap about it?"
Personally, I believe a film can never get too old to discuss its flaws. I can go on and on about the flaws I feel Heisei films like SpaceGodzilla or Destroyah have, but just because they are over 2 decades old, doesn't mean I can never talk about said flaws.
This particular discussion is going to focus on the character of Ford, and why his character arc suffered magnificently in the film, thus, making the film suffer since he's our main focus. Let's get this out of the way, is Ford a bland character? Kinda. And no, having a dark backstory or "potential" to be an intricate character is not a good excuse for how he is portrayed in the film. That's like saying Spider-man deserves my love and attention just from his Uncle Ben dying, not his personality or where his morality stands etc., just the fact he's got a dead uncle.
And for those of you worried I'm gonna hate on your favorite Godzilla film cuz I'm a jerk, don't worry. I'm solely talking about Ford and how the film giving him the main focus was a huge mistake. Surely, we can all agree on that being a negative of the film. And before anyone mentions it, yes, I do hear in the movie novelization Ford gets more character due to us getting more inside his head, but that does not excuse the movie for not characterizing him in the actual film just like it doesn't excuse Destiny's lack of lore by making it readable on Bungie.net.
And just remember, I'm not a hater that wants to crap on this film and make it garbage in everyone's eyes. I'm just a concerned fan that wants to help fix what is otherwise a very huge, glaring problem that I hope isn't repeated in the sequels. So, with that said, let's take an in-depth look on why the character of Ford Brody in "Godzilla (2014)", more or less, sucks.
______________________________________________________________________________________
Let's go step-by-step:
1) His Actions And Presence Are Meaningless
If Ford were removed from the film altogether, what would be different from the main storyline? If every other soldier in the film were portrayed realistically, absolutely nothing. There's a review for the film that helped inspire me to start this discussion that puts it best. The nuke story towards the end was only fabricated to give Ford a reason to be there. I mean think about it, realistically the soldiers would be the ones to push that auto-pilot button on the boat to get the nuke out already, not just Ford. The soldiers should also be concerned about the Muto's nest and hang back to take care of it, not just Ford. There should be more than one freaking bomb expert on that mission in the entirety of the U.S. that could help with the retrieval/detonation plan, not just Ford. It's like you had to make the other military members complete dumbasses to give him a point, and if your character has no point in a story than get him out of there, don't contrive the story to give him a reason to be there; which Godzilla (2014) unfortunately did.
So just to cover it all, Ford's only bearing on the events of the story is killing the Muto's nest, and sending the nuke away on the boat. And both could've and should've been done by the other soldiers, the only point Ford has in the story and they have to make the other soldiers complete idiots for it to work. Replace Ford with "random American soldier with an actual brain #6" and he can be written out of the story completely.
2) He Is A SUPER Contrived Character
What is contrivance? Something that happens for no other reason than to serve the plot, like everything Ford does or experiences. Like telling his family to stay in San Francisco even though he's aware giant monsters are converging there, which no good father would do. Or being unable to open the nuke at the end even though he should have tools or something that should help him deal with this situation, forcing the soldiers to take it to the boat. Or how every other nuke expert in the entire world just conveniently vanished into thin air, leaving only him to deal with this Godzilla epidemic. Or how he's the only soldier in the train escort that survived. Or how even though the military specifically said they wouldn't be able to extract him even though mere seconds after the EMP wears out, they send a chopper to rescue him anyway. Do you see the problem?
Now contrivance isn't a bad thing, because if something out of the ordinary doesn't happen than you have no story, so in other words, no Godzilla and no Mutos. But when it's obvious and borderline stupid, that's when you can see contrivance out in the open, naked. The job of a good writer is to clothe contrivance up and make it blend into the background. But a lazy writer will use contrivance to move the story along because they don't want to bother to think of better ways to put their characters in the situations of the story. You might think I'm looking into too much stuff in terms of what Ford goes through, but how many of you didn't automatically know when Ford pulled his gun out at the female Muto at the end that Godzilla was going to save him? With everything coincidently happening to Ford this massively, I'm surprised Ford isn't a "chosen one" in a "prophecy" that is "destined" to help Godzilla defeat the Mutos.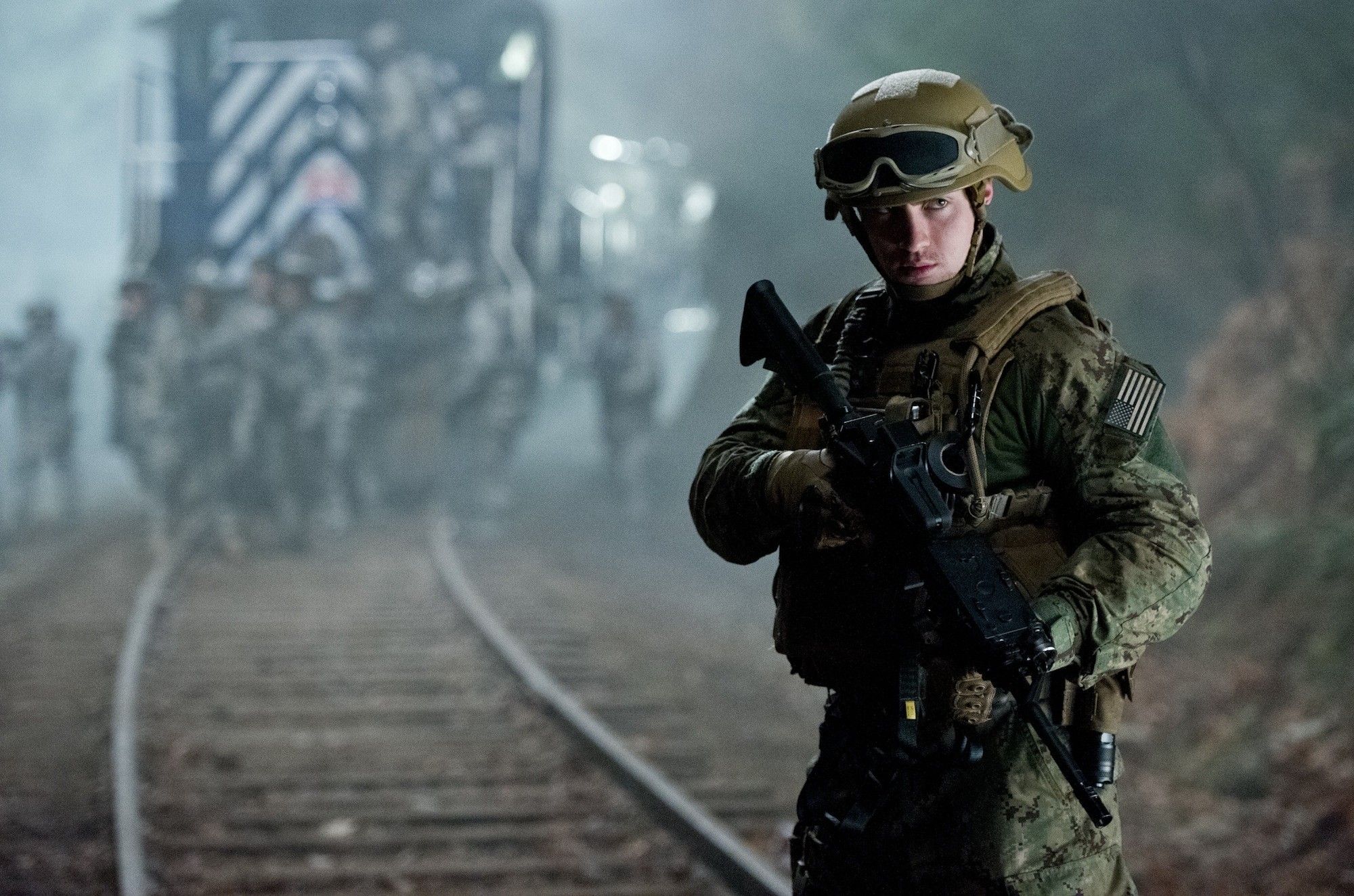 3) Ford Doesn't Interact with Anyone
Remember when Ford was interacting with his wife and his dad at the beginning of the movie, remember how fleshed out his character was becoming? Well, after Cranston dad dies, say goodbye to that because we are literally given no other instance where Ford's character is built. We don't see him make any new friends on the way, we don't see him morally/emotionally struggle. I mean there was that one phone call he made to his wife and that one time he looked at a picture of his family, that was, something. Heck, it seems like we were starting to get something with that Japanese kid in Hawaii, but by the end of the scene the kid vanished from the movie completely and feels more like that kid was just put into the film for a helpless boy Ford had to save so the audience can view him as a "hero". If Ford developed friendships with Serizawa or the other military soldiers on his journey, we would constantly see his character being fleshed out more, but we never get that.
Instead, it's like the film expects the first hour of development Ford got to be enough for us to care about him and become invested, that's unfortunately not how it works. You have to continually prove to us why this guy we're continually watching is so awesome. As audience members, we aren't gonna take your word for it. In other words show, don't tell. And this fact is probably going to bite the sequel in the ass too, because if Max Borenstein thinks Ford was characterized plenty in this film, than he's probably going to think writing Ford (if he returns) with little interactions in the sequel will be good enough cuz "the original covered it".
4) Other Characters Are So Much More Interesting
Serizawa is a scientist that has studied monsters for years, has a clear dark past, and has a clear enough understanding and passion for these beasts that he actually mourns over the possible death of Godzilla toward the end of the film. Admiral William, is a strong military leader who wants to save innocent people and has a clear struggle on whether or not he should let nature take its course like Serizawa says yet risk massive collateral damage or use his own forces in a desperate attempt to save everyone. Heck, even Ford's wife Ellie is a mother who desperately wants to save her child but is forced to care for people in a time where goliaths are at war and risk her safety and her child's for the safety and protection of others.
The main point is that, although Ford has the potential to be interesting to follow, for this particular story he's not. Yet we have other characters that clearly can be a million times more interesting to watch during this story but we fail to focus on because the writers think Ford is just such a lovable guy. Comparing how interesting the other charactesr in the story are just makes his character look all the more bland by comparison. Serizawa still interests me after watching the film 6 times far more than Ford ever did, which is why I hope the sequel focuses on him instead. Because if you cut away from a Godzilla fight in the sequel to focus on Serizawa discussing monster conspiracy or his past, it's less of a sting, but if you cut away to Ford buying a Snickers from a 7-11 I will lose my freaking mind!
______________________________________________________________________________________
And that's pretty much all my points for why Ford alone is a massive negative for this film. I feel if we were following Serizawa, or even Ellie, or you know, Joe Brody the film would've been 10x better since the human element would be worth the cuts away from Godzilla fights. And I hope the writer(s) learn from their mistakes, whether that's characterizing Ford more or focusing on a much more interesting person in the story, the sequel will be better for it. And again, I'm not saying Ford is a bad character, as mentioned before he does have potential and there are segments of the story where it shows you he could be interesting (mainly in the first hour). But, the film is trying to convince me he's interesting by just saying he is, and not showing it. Again, show, don't tell.
I hope this advice is followed, because I do want the human element to thrive in this franchise. After all, we love Dr. Grant from "Jurassic Park" and (ironic enough) Brody from "Jaws", make us love Ford from the Legendary Godzilla franchise. And if not, there's this other cool character that is way more interesting and cool to follow and focus on, just a small character that plays not too big a role, you know, a certain, fun guy called GODZILLA!
Welp, those are my thoughts. I sure hope a lot of people reply to this discussion otherwise I've spent over an hour dedicating my super nerd brain to this long typed piece of thought for nothing. What do you guys think? Do you agree with me about Ford? How would you improve him or the human element of this new franchise? Leave your thoughts, and thanks for patiently reading this! I appreciate it!
(Also, if I have any spelling/grammar errors, please let me know. I'm super OCD about that kind of stuff and it's super late and I wanna go to bed cuz I have no life and BAH!)
PICK YOUR TITAN
29 Responses to Why Ford's Character Suffers in Godzilla (2014)! (Does Ford's Character Suck?)
Add A Reply