Mothra Larvae
Member
0 XP
Nov-01-2014 7:52 PM
Hello everybody! am finally here! i wanted to be on this site since last month, but for somereason it would not accept me. but am here now! i have been a godzilla when i was 4-5 years old, watched the first one, and i got hooked right after it, i have watched all the movies and lived the new one (8-9/10) and as my name says, my favorite version of the big guy is the heisei series, so i hope we all get along and have a great time, ask questions if you want i will reply if i can. oh, and one last thing
SKKKKRRREEEEOOONNNKKKKGGG!!!!!!!
PICK YOUR TITAN
13 Responses to Hello!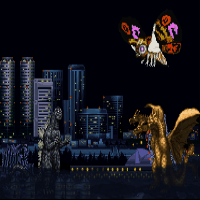 Mothra Larvae
Member
0 XP
Nov-01-2014 8:28 PM
Hy need help just ask
Evacuate?, Godzilla is just a Legend!-Woman in GMK
Mothra Larvae
Member
0 XP
Nov-01-2014 9:35 PM
Welcome dude. I shall introduce my self
My name is Raymond. I am a huge Godzilla fan (Godzilla 2014 and 2000 are my two favorite movies of all time) I also love other monster films such as 
King Kong (1933 and 2005)
Cloverfield
The lost world (1925)
Super 8
Gamera (90s trilogy only)
And Pacific Rim
Mothra Larvae
Member
0 XP
Nov-01-2014 9:40 PM
Nice to meet you HeisiKing! I am Gojira2K, you can call me Gojira. My favorite Godzilla monster is Biollante and my favorite movies are Gojira (1954), GMK, and Godzilla vs Biollante. If you need anything just PM me, or one of the staff members. Hope you enjoy this site!
"There is nothing noble in being superior to your fellow man; true nobility is being superior to your former self." - Ernest Hemingway.
Mothra Larvae
Member
0 XP
Nov-01-2014 9:43 PM
hello nice to meet you !
Mothra Larvae
Member
0 XP
Nov-01-2014 10:41 PM
thank you all!
and gojira my second favorite monster is anguris 
i really cant name my favorite godzilla movie
thank you jrr!
and hello awesome and raymond!
Anguirus
Member
1077 XP
Nov-01-2014 11:34 PM
Team Ghidorah
@123Invaders
Everybody Loves Raymond :P
@HeiseiKing
Welcome to SciFied. I am 13 and besides Godzilla, I am a WWE Fan hence my name, Godzilla316, the 316 isfrom Stone Cold 316. Here is my YouTube channel:
http://m.youtube.com/channel/UCglhYKv11VOVhyh0D_r3SlQ
Here is my fan-fic, its a reboot of Zilla Jr in the Legendary Universe where he is allies with Godzilla and its called Zilla Jr: Earths Second Defender
Remember that chap, I forget his name, he climbed Everest without any oxygen, came down nearly dead. They asked him, they said, "Why did you go up there to die?" He said, "I didn't, I went up there to live."
Baragon
Member
425 XP
Nov-01-2014 11:39 PM
Favorite Godzilla is heisei?
Hm, I think we'll get along 
Godzilla
Member
5639 XP
Nov-02-2014 3:04 AM
HEISEIKING - Welcome to Scified! It's excellent to see new faces; we're always pleased to hear new ideas and points of view! Please, make yourself at home and start posting away! :)
Titanosaurus
Member
926 XP
Nov-02-2014 4:59 AM
Welcome HEISEIKING! Welcome to the forum. It's always great to have another Godzilla fan online. 
Mothra Larvae
Member
0 XP
Nov-02-2014 7:58 AM
Hello HeiseiKing! Varan 04276, or Varan! I like the Millenium Godzilla, G14, Heisei Godzilla, and the 90s Gamera!
I? I am a monument to all of your sins.
Mothra Larvae
Member
0 XP
Nov-02-2014 9:15 AM
Thank you all!
and yes i have read everybodys fan fics and storys and fanart. but again, the site would not let me log on, but i did ready everybodys!
and they were all awesome!
Mothra Larvae
Member
0 XP
Nov-02-2014 11:26 AM
Welcome aboard! 
I guess I'll introduce myself to you too~
I'm Daikaiju Danielle, I love Orga and my top ten favorite Godzilla movies are: 
"Daddy's home- cake every night,"
Baragon
Member
330 XP
Nov-03-2014 1:40 PM
Well, i am late with this. Welcome aboard glad to have you with us! :)
My name is bigbadben, but you can call me ben.
I am one of the many talanted artists here and if you would like to see my work you can check out this link if interested. ;)
http://www.godzilla-movies.com/community/forums/topic/38656
Hope you enjoy, and again welcome aboard.
http://hugeben.deviantart.com/  check out my gallery of Godzilla artwork! Follow me on Twitter@thebigbadben90.
Add A Reply