Your Top 5 Favorite Kaiju Of All Time
15,675 Views
12 Replies
Add A Reply
Baragon
Member
115 XP
Apr-13-2017 6:48 PM
There are many Kaiju from all over the world, but everyone has their favorites. This topic can be used to discuss your Top 5. This includes all Kaiju, not just Godzilla, Kong or Gamera. My list begins below and it is in order from fifth to first favorite.
5) Destoroyah
Who doesn't love this awesome devil/dragon/demon/crab monster? Heisei Godzilla's final opponent, Destoroyah is a personal favorite Kaiju of mine because of how fearsome he is. He truly looks like and fits the bill as the "final boss" of the Godzilla series. I also really like to see this guy in Legendary's MonsterVerse. It would be awesome!
4. Knifehead
I don't know what I love about this guy so much, but I really like him. He looks fearsome and he's a really cool take on a new breed of Kaiju. While he was only in the first scene of Pacific Rim, his fight with Gipsy Danger was definitely my favorite part, and I think he was the most unique and cool monster in the film. I'd love to see him again perhaps in the sequel. Also, I really want to pick up that 7'' figure of him from NECA. It looks totally rad and it would make a neat addition to my shelf.
3. Ghidorah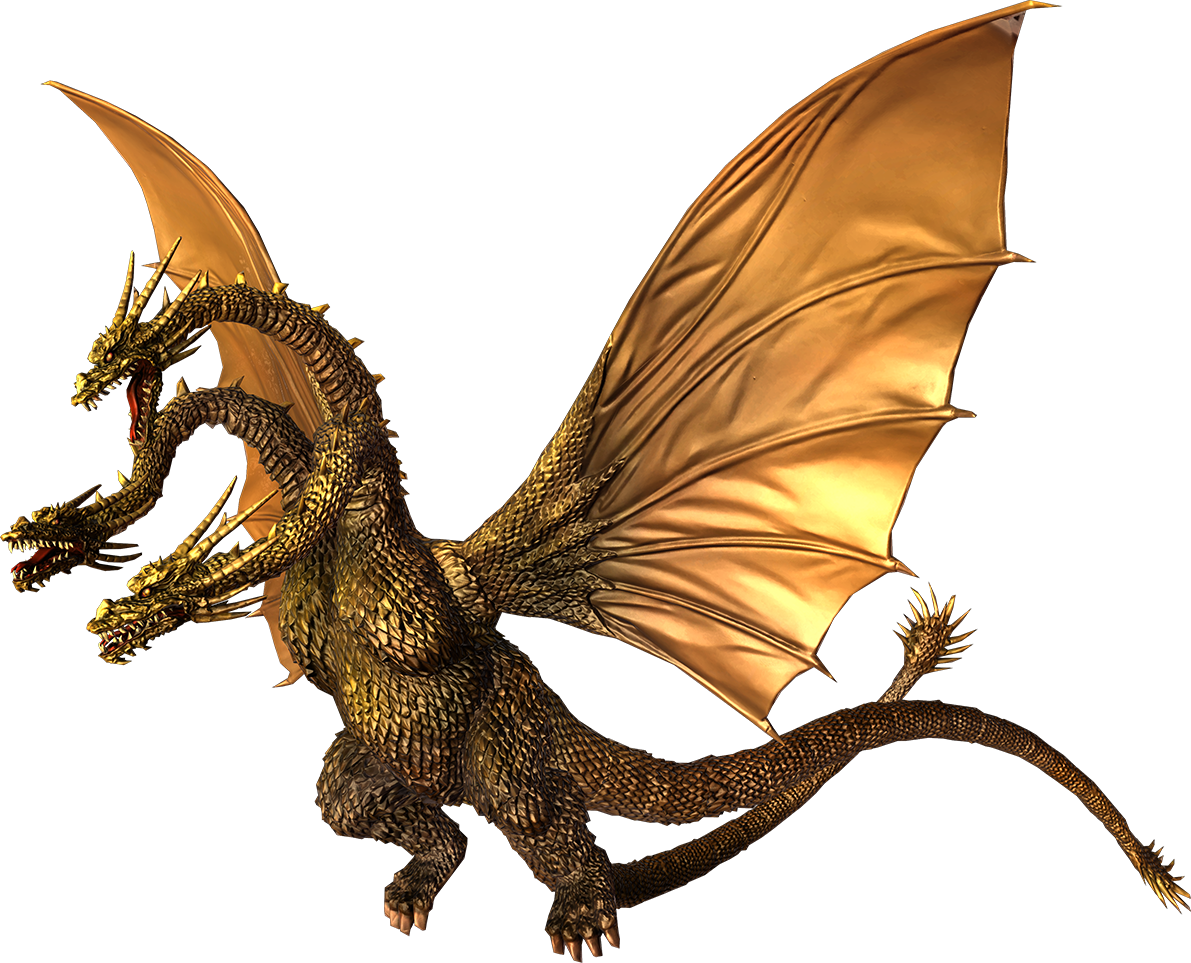 I will never not think of Ghidorah as Godzilla's true arch nemesis. He's the Joker to Godzilla's Batman. The Bowser to Godzilla's Mario. The Red Skull to Godzilla's Captain America and so on and so forth. I love Ghidorah's ancient, epic design and his awesome powers. I'd personally love to see him in a film of his own, but I doubt it'll ever happen. Still, I will always know this guy as the best Godzilla villain of them all.
2. Clover/Cloverfield Monster
I really love this monster and I'm not 100% sure why. Maybe it's the fact that he's an American kaiju that's unique and exciting. Maybe it's because he attacked New York, which is a state away from me. Or maybe because there's so much mystery surrounding him. While he was only in one movie that's now almost a decade old, I still think that his design is cool and interesting and I really want to see him again. I also love the concept of him dropping parasites.
1. Tie - Godzilla/Kong
What can I say? I love both of these monsters so much that I couldn't possibly decide between them. Godzilla's powerful, fearsome and the King of Monsters. Kong's mighty and agile, making him just as awesome. I like both of them so much for different reasons. Thus, they are ultimately tied for the spot of my favorite Kaiju.
.................
Alright, I'm done. Now you guys go.
PICK YOUR TITAN
12 Responses to Your Top 5 Favorite Kaiju Of All Time
Titanosaurus
Member
854 XP
Apr-13-2017 8:42 PM
///
Titanosaurus
Member
934 XP
Apr-13-2017 8:51 PM
1. Godzilla (1989)
2. Biollante
3. Varan
4. Baragon
5. Anguirus
Godzilla... Truly a God incarnate.
Mothra Larvae
Member
61 XP
Apr-13-2017 9:07 PM
5. Showa Anguirus
4. Showa King Ghidorah
3. Showa Mechagodzilla
2. Gamera 1999
1. Godzilla 1984/85
Honorable mentions: Burning Godzilla, Biollante, Otachi
Mothra Larvae
Member
16 XP
Apr-13-2017 10:31 PM
5- barugon (from the gamera series)
4- King ceasar
3- Kong 
2- (tie) gamera(heisei) and biollante
1- of course GODZILLA (89 biogoji)
Gigan
Member
4115 XP
Apr-14-2017 5:00 AM
5. Gigan
4. Kiryu
3. Kong
2. Ghidorah
1. Godzilla
"Part of the journey is the end..."
Baragon
Member
478 XP
Apr-14-2017 5:35 AM
Wow, this actually took some thinking after the top 3.
1. Godzilla
2.King Kong
3. Rodan
4. MechaGodzilla(specifically showa)
5. Biollante
Mothra Larvae
Member
11 XP
Apr-14-2017 5:57 PM
Hmm. After a lot of thought:
5. Showa Mechagodzilla
4. Rodan
3. King Ghidorah
2. Final Wars Gigan (if it was just on look alone, he would take it)
1. Godzilla
Honorable mentions: Kong, Megalon (I just really dig the way he looks) 
Gigan
Member
4297 XP
Apr-14-2017 6:01 PM
5. King Ghidorah
4. Otachi
3. Godzilla
2. MechaGodzilla (Tie between all 3)
1. Gigan
Honorable mentions: Anguirus, Gorosaurus, Gamera and Rodan
"Banana oil."- George Takei, Gigantis: The Fire Monster
Mothra Larvae
Member
11 XP
Apr-15-2017 3:43 PM
1. Godzilla (2002)
2. Kiryu
3. Gamera
4. Mechagodzilla 2
5. SpaceGodzilla
Mothra Larvae
Member
26 XP
Jun-14-2017 12:09 PM
5. Megalon
4. MechaGodzilla
3. Gigan
2. Hedorah
1. Godzilla/Kong - tie 
Baragon
Member
157 XP
Jun-14-2017 4:24 PM
5. Gigan
4. Godzilla
3. Hedorah
2. Titanosaurus
1. Anguirus
Baragon
Member
115 XP
Jun-14-2017 5:33 PM
I'm actually changing mine up a little bit:
---
5. Battra
4. Knifehead
3. Ghidorah
2. Clover
1. Godzilla/Kong
Add A Reply